LG LED Television Model 32LB561U Dead, Power On LED Red Now Repaired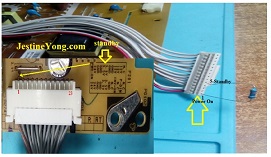 I received a phone call from one of the neighbours who wanted his television checked by a technician. I gathered a few of my test gears and headed to his place and being a weekend i found him out but had left a message that a tech is expected. I introduced myself and I was ushered in, shown the television and before opening it I decided to apply the power, I noted the power ON led was red.
I pulled the remote control and pressed the power ON button and still no change, power led On remained red and with that I concluded the television needed opening in order to do further tests. Usually when the power led is ON, one can conclude that the standby voltage is present (or standby circuit is working, and the micro is getting powered).
Let me also point out that in electronics power supply is like the heart in human being, its work is to pump voltages to every part/component in the equipment, in our case lcd-led television and therefore it is very important to be sure the power supply is okay before you proceed since a faulty power supply can cause many symptoms including shutdown if any line is shorted.
After opening I started scanning the power board and I could not see any area or part which looked suspect.

After scanning the board with naked eyes and failing to pick any suspect area or component I decided to move to the next level. Live voltage testing! This I my favourite one since it help me to narrow down the problem to a particular circuit/component pretty fast.
First I wanted to be sure the power supply is okay and therefore decided to isolate it completely from the main board and make sure all the output were okay. Since the micro is the one responsible for sending the "On signal" to the power supply and since the power board is isolated from the main board I had to use manual method to activate other voltages outputs using a 10K resistor.
For those who are new to lcd – led repair, let me point out that if you take a new power supply board (SMPS) of any television model and connect it to the power outlet, you will only find one voltage present at the output and this is usually the standby voltage. This voltage is present at all times so long as the board is connected to the power outlet and main switch if any is set to ON. If this voltage is not present you can safely assume the power supply is faulty and need troubleshooting to find out what is blocking this voltage before you continue with any other tests.
But if this voltage is present and you want to test if other lines like 12volts and 24 volts are working that is when you will need to use the manual method of activating other outlet using a 10 K resistor. To activate other outlet just take the 10K resistor and connect one pin to the standby pin and the other pin to the Power on (Ps-On).

If all is well then expect other voltage will be generated, in my case after applying the 10K resistor across the two pins I was able to test the 24 volts outlet and zero at 12 volts outlet.
I followed the 12 volts line backward from the output connector looking for what is blocking this voltage and was taken to the transistor below Q201.

You can see the sketch below of the actual voltages I tested before and after these two transistors.

In politics they say figures never lie, this also hold true in electronics, as you can see above transistor Q202 output is 23.5Volts which is very close to expected voltage of 24 volts but Q201 output is zero. Before I concluded this transistor has a problem I had to do a few more tests to be sure if it is the culprit and not.
This is because if any component is shorted after this transistor can also pull down the voltage after the transistor. To know which components are related to this transistor I had to google for the television circuit diagram which I easily found on the net.
Unfortunately most of these LG circuit diagram don't include the power supply part in their service manual and to go round this problem I decided to google the board part number which is always included on the power board as you can here below.

After searching this is what I got.

With the circuit diagram, my interest now is on Q201 circled in blue, the drain is connected to capacitor C204 and therefore if this capacitor develop high ESR it can pull down the 24 volts substantially but not to zero level as in our case. But a short on that component or C227 next to it can cause total shutdown to that line.
I tested both capacitors and passed the exam with flying colours, my next point of interest is the two branches still connected to the drain of this transistor.

To isolate which branch could be causing problem I soldered out one pin of diode D805, see figure 1 above, I then applied the power and still got zero volts at Q201 output and with this I concluded the branch is okay.
I soldered D805 back in circuit and then moved to probe the other branch and for this I noted from the circuit diagram that R805 is in series with that line and therefore I cut it off by soldering out this smd resistor, I would be able to test if any component is shorted on that line. I soldered it out of the pcb board and I again applied the power and again I got zero volts at the output of Q201 and with this I concluded transistor Q201 is faulty.
I was not able to get it from the local market and therefore I imported it. I replaced the component and after applying the power I was happy to see the television back to life.

Humphrey Kimathi is from Nairobi Kenya and the author of

Please give a support by clicking on the social buttons below. Your feedback on the post is welcome. Please leave it in the comments. If you have electronic repair articles to share with us, please contact us HERE.
P.S-  If you enjoyed reading the above article, click here to subscribe to my blog (free subscription). That way, you'll never miss a post. You can also forward this website link to your friends and colleagues-thanks!
Note: You may check out his previous post in the below links:
http://www.electronicsrepairfaq.com/sony-led-tv-model-kdl-32bx310-hit-by-power-surge
Likes
(

124

)
Dislikes
(

0

)