Lights of America Shop-Light Repaired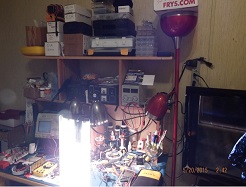 My son brought this Lights of America shop light to me to fix. He said that his grandpa told him that it would cut off by itself after running for 30 minutes or so. It didn't have any lamps in it and I don't have any either.
It uses two 4foot T8 lamps. So I took it apart to see what I could find out.

I noticed right away that the ground wire was loose in the perforated slot in the frame. It wasn't soldered or tight. I took the PCB out of the case to inspect it. The plastic case wasn't melted or anything.

I had to remove the cover piece of tin that covers the wires going to the other end of the shop light. Then I removed the bracket for the 2 lamps at the other end so I could feed the wires through the end of the plastic case to take the PCB out. Then I unsoldered the wires on both ends for the lamps to remove the PCB for inspection.

You can see around the middle of the PCB that it has been getting hot and has discolored the PCB darker. Something must be causing the device to draw too much current.

One of the Diacs checked to be bad, so I will replace both of them. The Diodes checked good with my meters.




I checked all of the main components and they checked good.

I checked all of the capacitors, and they all checked good except two of them. The CBB28 1600V 472J cap in the photo above measured above the tolerance for capacitance.
The CBB28 1kV 222J cap in the next photo checked good on capacitance, but failed the insulation test. It showed a resistance of 10.5 GΩ. Hopefully replacing the 2 capacitors, 2 DB3 diacs, and re-soldering the cold solder joints, will fix the problem with this shop light.

This is my Smart Sensor Model AR907+ Digital Insulation Tester that I bought on Ebay for around $40US. I don't remember exactly how much it was but it has proven to be a good tester. It has testing voltages of 50, 100, 250, 500, and 1KV. It has a good LCD backlight, auto discharge function, live wire warning and audio indication, auto power off in 10 minutes without any operation, low battery indication, and AC voltage measurement between 30 – 600V AC (50/60 HZ). It uses 6 AA batteries, and I have been getting pretty good battery life.

Checking the Diacs with a VOM on X10K, it should have no reading either way. One Diac checked good but the other failed as can be seen in the next photo.
The VOM I'm using is my new BK Precision 114A that I bought on Ebay. This meter has been discontinued, but was brand new and still in the box! It still has the protective film on the face cover! Somebody put it up and never used it, and then sold it for some reason. At first I thought it may be a fake meter, but I took a chance and I am glad I did! It is a genuine meter and I got a really good deal on it! After taking it apart, I could clearly see the great components and workmanship of the meter. After receiving 2 fake Sunwa meters, it was nice finally getting a great genuine meter! I may never find another meter like this one in brand new condition. I also couldn't wait to write an article so I could show it off. Many people don't know how beneficial VOM's with the X10K range are – they think the VOM's are obsolete and useless. Those of us that know how useful they are can get good VOM's at great prices! It just takes some searching and taking a chance!

Using my VOM on the X10K range, the first Diac passed, but the second Diac failed on one way, moving the needle to the 2K mark. I decided to go ahead and replace both of them. The other components were good after I removed and checked them all off board. The new Diacs that I bought are smaller than these, and are blue. They are rated at 2A.

The new components are soldered in, and the PCB is ready for soldering the wires up and putting the shop light back together for testing. Nearly every connection has been re-soldered with good solder.


The shop light is reassembled and the new bulbs are installed. I will test it for a couple of hours to make sure it is fixed and working good.

The shop light has been on for 2 hours now and working great! This repair is finished. I hope you guys enjoy this article.
Robert Calk is a hobbyist from Texas, USA and loves learning electronics and device repair.
Please give a support by clicking  on the social buttons below. Your feedback on the post is welcome. Please leave it in the comments.
P.S- Do you know of any your friends who would benefit from this content that you are reading now? If so, forward this website to your friends or you can invite your friends to subscribe to my newsletter for free in this Link.
Likes
(

159

)
Dislikes
(

1

)