Line Protector Repaired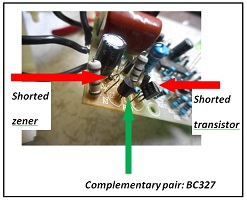 This week-end I was in hurry because the Line Protector of my old Hotpoint fridge got suddenly out of order.

It comes designed specifically for refrigeration equipment and with a max load of 10 Amp. Its brand is NUMEN and Cuba made.

It has four stages of duty represented by means of 4 LEDs:

Bajo (red LED): this LED lights when the volt-in is low, under 92 volts. The fridge will not start and it is protected againt low-voltage.
Alto (red LED): this LED lights when the volt-in is high, above 130 volts. The fridge is protected against high voltage and will not start.
Espera (yellow LED): when you connect it (or when the electricity is restablished from a black-out) it waits for about 3 – 5 minutes to supply electric energy to the fridge.
Normal (green LED): when the volt-in is in a normal range (between 93 and 130 volts) it lights, so the fridge is protected too.
Note: remember the AC voltage in my country is 110 volts.
The Line Protector was fully-dead, in other words, when you connected it to the wall-outlet, it showed no signs of life, so the equipment was opened.

My first search was in the AC-in circuit, and found a shorted transistor (BC337: NPN Epitaxial Silicon Transistor: switching and amplifier applications) and a shorted zener diode of 9 volts.

In this case an exception had to be made, let me explain carefully: this BC337 works as a complementary pair with the BC327 (situated in front of it, look at the photo above), so I had no BC337 of spare and then I had to look for another complementary pair: BC546 and BC556 (NPN and PNP Epitaxial Silicon Transistors: switching and amplifier applications), of course it was done by consulting both datasheets.

Both transistors and the zener diode were replaced in the PCB and the equipment was tested in the AC mains, look at the result in the photos below.

This time the Line Protector was working perfectly and it was saved from the dump.

This article was prepared for you by Humberto Rodriguez, one of our 'Master Authors' from Cuba.
Please give a support by clicking  on the social buttons below. Your feedback on the post is welcome. Please leave it in the comments.
P.S-  If you enjoyed reading this, click here to subscribe to my blog (free subscription). That way, you'll never miss a post. You can also forward this website link to your friends and colleagues-thanks!
Likes
(

147

)
Dislikes
(

0

)