Logitech F310 Gamepad Controller Repair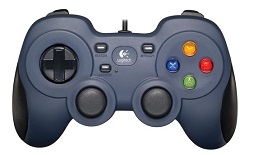 When one joystick on my son's Logitech GamePad F310 started to stick I felt it would be a trivial repair, perhaps just needing lubrication, but it turns out that the metal shaft of the potentiometer had been galling against its metal holder and wearing upward.

I thought that getting new potentiometers would be easy for such a popular game controller, but no matter where I looked the closest I could find was a 16mm unit (most are 13mm) but with a shorter stalk.
Then I recalled an obsolete steelseries 3GC controller I had around

and opened that up (not easy with its Y shape tamper resistant screws). Inside I found pin compatible 16mm potentiometers but with shorter stalks

so I decided to try using those with the tops that came with them. Imagine my delight when everything fit together and worked. Similar 16mm units (with matching tops) seem to be available on aliexpress.
Hopefully this trick may help other people who have a Logitech GamePad F310 with a sticking joystick.

This article was written by Anwar (Andy) Shiekh originally from London, England; he repairs things to help make an income go further and presently teaches Physics in Colorado, U.S.A.
Please give a support by clicking on the social buttons below. Your feedback on the post is welcome. Please leave it in the comments.
P.S-If you enjoyed reading this, click here to subscribe to my blog (free subscription). That way, you'll never miss a post. You can also forward this website link to your friends and colleagues-thanks!
Note: You can check his previous repair article on 92mm CPU Fan Replacement Project
Likes
(

34

)
Dislikes
(

0

)