Logitech Keyboard Repaired For Not Responding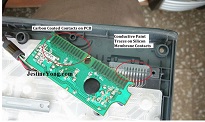 Customer sent me Logitech keyboard for not responding problem. On testing I found keyboard Num Light is ON but when pressing the button it not show any effect of LED on & Off seems keyboard is hanging while connecting on the computer even it is not responding in POST also.

So opened the keyboard for further inspection…

I have checked and cleaned silicon membrane Key dome sheet using Brush.
Now removed the main controller PCB for inspection

Component side everything seems Ok. Checked components on both the side found Ok.
So just taking chance by reviving carbon coating on PCB using Pencil.

You cannot do anything on contacts paint on plastic, it is not worth (in past I bought conductive marking pen but it dried up as it does not have more shelf life and even after applying it never last for long time) so I made my mind if not success then return it to the customer with advise him to Buy new keyboard…….
First I cleaned both the contacts using "IPA" and revived contacts on the PCB using pencil. Plugged the keyboard to my computer for testing after reassembling……& the keyboard start working.
Saved this unit going to earth fill by repair. Many technicians are not repairing it because they are not getting any return for time spent by them to repair. I have repaired it because it is under my AMC Contract with the customer.

This article was prepared for you by Yogesh Panchal who works as a Computer Hardware Engineer in Mumbai India.
P.S- Do you know of any your friends who would benefit from this content that you are reading now? If so, forward this website to your friends or you can invite your friends to subscribe to my newsletter for free in this Link.
Note: You can check his previous repair articles on Hair Dryer Repaired
Likes
(

56

)
Dislikes
(

0

)