Magnifier lamp with fluorescent light upgraded to LED light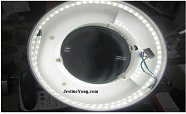 I had this magnifier lamp in my shop for almost 18 years. Recently, the original fluorescent light was broken and when I bought a new one, it lasted only a week. I thought it was a bad fluorescent light so I bought another one; again, in one week time, it was burnt again. So I decided to upgrade the lamp to a LED light and see the result.
This LED lights run on 220 DC but the lamp that I have, runs on AC so I installed a bridge rectifier and I did the measuring. As expected, I got 220 DC volts out.

I connected the inner pins to an AC source.
On the outside pins, I got the negative and the positive DC volts out.

Since I am dealing with a metal housing, I soldered two wires to negative and positive pins and added a heat shrink tubes to isolate the electrical wiring from the metal housing.

These LED lights are made for outdoor lighting. They produce white light and that was the idea to have a bright white light.
They are covered in a plastic shielding and that is even better to attach to a metal house of the lamp.

This is lamp before the installation of the LED lights. As you can see, it comes with a base and springs that can actually extend to almost half of my work bench.
Before adding the LED light to the base, I used a double sided tape to hold the LED lights in place. Once the double side tape was in place, I stuck the LED lights to the sticky tape and I the result was great.

In the photo it looks a little bit dark but I am guessing because o the shutter speed on that camera. It looks great on my work bench. I am very happy with the result. Mission accomplished.

This article was prepared for you by Waleed Rishmawi, one of our 'Master Authors' and currently working in the Bethlehem area of Palestine repairing electrical and electronic equipment.
Please give a support by clicking on the social buttons below. Your feedback on the post is welcome. Please leave it in the comments. If you have electronic repair articles to share with us, please contact us HERE.
P.S-  If you enjoyed reading this, click here to subscribe to my blog (free subscription). That way, you'll never miss a post. You can also forward this website link to your friends and colleagues-thanks!
Note: You may check out previous post in the below link:
https://jestineyong.com/many-suspects-for-a-no-sound-in-cd-player-repaired-model-safa-cd-21/
Likes
(

72

)
Dislikes
(

0

)