Main SMPS Transformer Overheated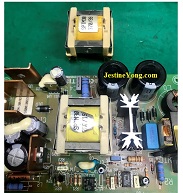 A client sent me his keyboard's power supply via postage to see if I could repair it. It is from a very old Roland Keyboard.

The power supply was made by KARTIS in Italy and bears the model nr SWM30. It has output voltages of +5V, -12V and +17V. Scanning over the board, I could see some discoloration of the pcb and also a blown fuse. Further investigation with a DMM showed that the switching Mosfet was shorted. Removed it to confirm. Part no BUZ90.
I decided to check all the remaining components but couldn't find anything else faulty. I then decided to replace the Mosfet and see if I could power it up successfully. Normally I would replace the controller IC too, but decided to try my luck. Brought the unit up slowly on a variac and dim bulb tester in place of the fuse. Bulbs started to light up brightly.
So, this obviously meant that there still was still a fault somewhere. Replacing the controller IC at this point, made no difference. I quickly drew up a schematic for the primary section, as there were no schematics available for this particular power supply. This made thing slightly easier.

I then decided to pull out my trusty RING TESTER, Guess what. Primary of transformer was not ringing any LED's. This means that we either have a faulty transformer or there is faulty secondary component somewhere. I then desoldered the transformer and confirmed that it was indeed faulty.
I also used the Ring tester to test this. Then the issue became to find another transformer. I decided to contact the local agents for Roland. They informed me that this unit was discontinued but that they would see if they perhaps had a scrap transformer in their inventory. A week later the transformer arrived in the mail.
I could see that it was a used transformer, but luckily when ringed it gave me 5 LED's. This meant the transformer was good!

Comparing it to the old transformer, I could clearly see that the original transformer had overheated.


I replaced the transformer and also decided to upgrade the controller IC from a TDA4605-2 to a TDA4605-3. This has a higher current handling capability. When powered up again, the unit was cycling slightly. Loading the +17V output rail with a 100ohm 3W resistor, stabilized it.
Confirmed voltages on all the other output rails good.

I will package the power supply carefully and send back to customer. I LOVE MY RING TESTER!!

This article was prepared for you by Riaan Diedericks. He runs his own electronics repair shop in Pretoria, South Africa. He specializes in Pro Audio repairs. Please give a support by clicking  on the social buttons below. Your feedback on the post is welcome. Please leave it in the comments.
If  you would like to get a Blue Ring Tester and Blue ESR meter you can click on the photo below:

P.S-  If you enjoyed reading this, click here to subscribe to my blog (free subscription). That way, you'll never miss a post. You can also forward this website link to your friends and colleagues-thanks!
You can also check his previous repair article below:
https://jestineyong.com/must-read-italian-made-powered-speaker-improvements/
Likes
(

109

)
Dislikes
(

0

)