Maintenance Done In Computer SMPS Lasted For Five Years!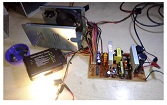 This computer SMPS belonged to the hospital where I worked. It was brought to me with the complaint that it goes off after sometime. I looked through my records and found that it was attended to in March, 2017 and failed only in April 2022! Last time I had changed only the tank capacitors, as others were ok and did a thorough dry solder patch up. As the SMPS was already cleaned by the IT-Admin I carried it home for troubleshooting. When I checked it giving power and also a load of Auto Bulb, it worked and for a moment I thought there was no problem. But after a few minutes, it just stopped.
So, I disconnected the power, discharged the tank capacitors and checked the ESRs of caps one by one. Though the ESRs of the tank capacitors were ok, I removed it and checked the values in my SMD tester and found the values were also ok. But the ESRs of almost all other caps showed out of range. So, went ahead and replaced all the electrolytic caps happily. Here are a few pictures of inside of this reliable SMPS:

Then I checked for any man made shorts. Could not find any. There was no need for a retouch as all solder joints looked fresh and clean. I did not find any of the wires broken at the PCB end.
I also visually checked for any loose contacts inside the connectors. Did not find any. Then applied power and also connected a 12V automobile bulb as load and allowed it to be on for a few minutes. It worked very fine.

So, having saved another lovely SMPS from dump, I allowed the satisfaction to jump into its collection bag. Here are the retrenched capacitors that failed 'medical fitness tests': (LOL)

Special notes (1) The dry solder is the main killer of almost all the electronic devices. I resolder all the joints even that of a new Chinese made CRT Board and replace the filter capacitors and sometimes even the rectifier diodes, as all these can cause a premature failure. See, how this SMPS worked for so many years because of a thorough dry solder patch up. (2) In this case, I replaced the caps with the exact voltage ratings. This was possible because I ordered for all capacitors with different voltages and stocked them aplenty.
(3) The capacitor voltage is very important in power supplies as the designer expects it to fail when the voltage exceeds, to prevent damages to the load, which, in this case is a very costly computer board.

This article was prepared for you by Parasuraman Subramanian from India. He is 72 years old and has more than 30 years' experience in handling antique equipment like Valve Radio, Amps, Reel Tape Recorders and currently studying latest tech-classes conducted by Kerala State Electronics Technicians' Association. He has done graduation in BBA degree, private diploma in Radio Engineering and retired as MD of a USA company. Presently working as Consultant to Hospital and other institutions.
Please give a support by clicking on the social buttons below. Your feedback on the post is welcome. Please leave it in the comments.
P.S-If you enjoyed reading this, click hereto subscribe to my blog (free subscription). That way, you'll never miss a post. You can also forward this website link to your friends and colleagues-thanks!
You may check on his previous article on Restored A Defective Power Supply And Motherboard In Samsung Monitor 632NW
Likes
(

61

)
Dislikes
(

0

)