Makita Charger Repair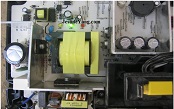 I got this dead charger from another repair shop in town that was not successful in getting this charger fixed. The guy explained that he opened the device and looked for a fault but somehow he was not able to repair it.

That is a very expensive charger and the guy wanted it repaired as soon as possible.
As you can see there were no bulging capacitors or anything wrong with it when I scanned it with my naked eye.

I powered up the device through a current limiter and the light bulb stayed dim which is an indicator of no short in circuit. I powered it through 220 AC volts and checked for voltage reading at the main capacitor but there was none.
If you look at the photo above you would see a marked area and on the top corner you would also see a dark burnt spot and what confirmed this loose connection is when I powered the device up, I could hear a zap sound coming from that area.

The common sense here is to re solder this spot and get it over with but the moment my solder iron tip touched that part, the connection on that line collapsed on two of these pins.
I used wires to reconnect these two pins (sorry no photo) and soldered them down to the board.

I powered on the device and as expected, the power green light came on flashing and according to the user manual that I found online; is normal and that is a sign that the device is ready to charge the battery when attached to the charger.
The repair was done in less than twenty minutes. I called the guy to come and pick up his device who was really shocked that it did not take long to get this charger fixed.
Mission accomplished.

This article was prepared for you by Waleed Rishmawi, one of our 'Master Authors' and currently working in the Bethlehem area of Palestine repairing electrical and electronic equipment.
P.S- Do you know of any your friends who would benefit from this content that you are reading now? If so, forward this website to your friends or you can invite your friends to subscribe to my newsletter for free in this Link.
Note: You can check his previous article on IGBT and Industrial Bridge Rectifier Shorted
Likes
(

67

)
Dislikes
(

1

)