Meg.XL CRT TV Repaired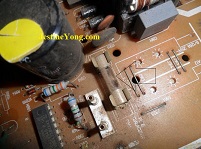 Customer sent in this MEG.XL CRT TV with the complaint of no power. For your information, no power can be caused by an open fuse, circuit track broken, bad On/Off switch, shorted power FET, Secondary output diode, shorted horizontal output transistor (HOT), Shorted primary winding of the flyback transformer and etc.
Once the TV cover was opened, I checked on the main fuse first and the result was the main fuse was open circuited. See the photo below:


As usual, if the main fuse is open circuit, one need to check on the corresponding component such as shorted bridge rectifier, Varistor, Power FET and etc. The bridge rectifier was ok but the power FET with the part number P7N80 was shorted and this is the reason the fuse blown.
Where there is a shorted component in the power primary side, it tends to draw lots of current causing the main fuse to blow.

Further checking on the power primary side, I found the Optoisolator IC also became defective.

Once the bad parts were replaced, I took the 60 watt light bulb to connect to the fuse holder (two points) and powered it On.
The bulb lighted up for a while and then went off indicated there was no more shorting in the power supply side and at the same time, the picture appeared.

Conclusion- Whenever you found the main fuse open circuited, pay special attention to the semiconductor components especially the bridge rectifier and the power FET. Sometimes, it can only the main fuse fault and no other bad components probably due to very mild power surge. You can take this repair case history to apply on other type of devices power supply for troubleshooting. Remember to check on Jestine's Yong Switch Mode Power Supply (SMPS) repair ebook if you want to learn repair techniques in fixing SMPS.

This article was prepared for you by Suranga Bandara who owns an Electronics repair shop in Anuradapura, Sri Lanka.
Please give a support by clicking on the social buttons below. Your feedback on the post is welcome. Please leave it in the comments.
P.S- If you enjoyed reading the above article, click here to subscribe to my blog (free subscription). That way, you'll never miss a post. You can also forward this website link to your friends and colleagues-thanks!
Note: You may check out his previous post about Panasonic Hi-Fi Setup No Power Repaired
Likes
(

50

)
Dislikes
(

0

)