Microwave Repair (failed interlock switch)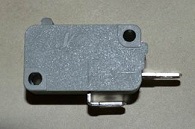 Microwave oven kept blowing fuses and upon opening it was obvious the top interlock switch was no longer working.
Rather than order the cheapest replacements I opted to get some quality units at considerably higher cost due to the claims:
"These are built quite a bit more robustly in our opinion"
"Quality Item, Will Outlast Original by Years"
as I wanted the repair to last.
Only the top (of three switches) had failed but I replaced both the top and bottom as they were of the same type (normally open) and I could combine shipping; the middle (normally closed) I left.

Fast forward a few months and it was blowing fuses again, often when the door was opened after the cooking had completed; made me suspect the middle switch that I had not replaced, but upon inspection it was the top switch again, even though I had invested in a supposedly better made unit.
Opening it up showed that the switch was in good shape internally but that the actuation finger was made of a plastic that had melted where it touches the switch mechanism.

The fix was interesting in that I then took the actuation fingers from the old cheap switches which seemed to be of a plastic that has a higher melting temperature and used these to replace those in the 'superior' switch.
The microwave is now working just fine again and hopefully will now really "outlast the original by years". Fortunately my Wife is quite patient as I try and figure out what is wrong with broken devices around the house.

This article was written by Anwar (Andy) Shiekh originally from London, England; he repairs things to help make an income go further and presently teaches Physics in Colorado, U.S.A.
Please give a support by clicking on the social buttons below. Your feedback on the post is welcome. Please leave it in the comments.
P.S-If you enjoyed reading this, click here to subscribe to my blog (free subscription). That way, you'll never miss a post. You can also forward this website link to your friends and colleagues-thanks!
Likes
(

62

)
Dislikes
(

0

)