XOLO Mobile Phone Headphone Repaired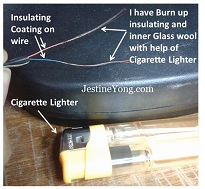 A friend of mine came to me with his mobile phone. He needs my help because his mobile headphone was not working; I have checked my working headphone with his mobile phone and it worked fine that means there is problem with his headphone. First of all I have checked the cable wire (for damaged) but everything seems to be ok. There was no physical damage from outside. Then I decided to open the control unit which was having one switch.

I successfully opened it and found few wires were tempered badly. This could be due to the cable was forcefully stretched.  I decided to do a total rework in this control unit hence first of all I have noted down on paper which wire is connected  to where; after that I have tried to resolder the wire but wire does not hold the solder on it .
To find out the reason I have cut the cable and what I found inside the cable was the manufacturer used thin fibres of "glass wool" with thin copper wires which makes cable more flexible and gives strength to the entire cable. But whenever I tried to put the solder on wire the glass wool blocked the heat of soldering iron to reach the copper wire to hold the solder. 

So I used one trick with the help of "Cigarette Lighter" (In my family no body is smoking but I have kept one for me to use for projects and it is very helpful while you are using Heat shrink tubes and so on).
I burnt the wire from the tip where I want to apply the solder by holding the wire with "Artery Clamp Forceps" (which are used by doctors) so that whole wire does not get damage due to heat. You know some proper tools make our job very easy and enjoyable also.

After this process I cleaned the burnt wire with the help of sharp blade. Now I inserted heat shrink tube at both the end and by applying little flux on the cable I managed to solder the wire. Please have a look on the photos below:


After connecting everything I have to check whether this will work or not. I have connected this unit to my Samsung mobile phone and it gives very low volume and the control unit switch does not give any effect while using the phone to talk or listen to music. Then I decided to check these headphones with the XOLO Mobile phone (original come with).
Now it works fine and I can reply to call and control music with the help of control switch.
Note: Always check or test the headphones on its original packed mobile Model number because Ear phone (EP) pin connections are vary for different manufacturers. Now I have re assembled the control unit after the rework process and it was working fine.

This article was prepared for you by Yogesh Panchal who works as a Computer Hardware Engineer in Mumbai India.
Please give a support by clicking  on the social buttons below. Your feedback on the post is welcome. Please leave it in the comments.
P.S- Do you know of any your friends who would benefit from this content that you are reading now? If so, forward this website to your friends or you can invite your friends to subscribe to my newsletter for free in this Link.
Likes
(

20

)
Dislikes
(

0

)