Modified Capstan Wheel Base Support In Panasonic Two-In-One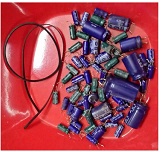 This Panasonic RX-5055F set was brought to me by a retired Teacher of my School, stating that this set was lying unused for a very long time, as it had defects in tape recorder section and wanted me to try restoring it, as she had a lot of very good and rare tapes in her collection. As usual, my first duty was to open the set, dismantle the whole assembly and subject it to a thorough cleaning. The set had cockroach eggs collected in several safe hiding places! As I saw traces of capacitor leakages on the board, I straightaway started replacement of all the electrolytic capacitors on the board.

I cleaned and lubricated all controls, switches etc. Assembled the set outside the cabinet and tried. Found that the Radio was working perfectly well, but the tape was not, though I had replaced the broken belts.
The motor was running, but the belt was getting slipped out from the capstan wheel and it was wobbling. On inspection, it was noticed that the bush on the top side had cracked.

Combed my stock and did not find a suitable one. Hunted with all electronic shops and one of the oldest shops had a few collections, one of which suited it well. In this process, I added my collection of bushes.


When re-tried, found the belt was still slipping, as the bottom of the capstan wheel was wobbling. This is because of the fact that the replaced bush was not long and tight enough to prevent a shake. So, I removed the spring from the bottom and soldered another bush inside the base plate, after marking the exact center of the capstan.

When I re-tried, the belt was staying in place and the mechanism was functioning properly. I played a cassette and found it to be working. While working on the mechanism, I had observed one spring lying loose inside, which I had removed and kept aside. When I checked, the return liver of one key was not functioning, and I knew that it is because of this missing spring. I dismantled the mechanism assembly from the bottom side, after taking several pictures, and located place and put the spring back in its place and reassembled the mechanism like before.
Need not have to specify that all these works took several hours and days, because of several trials and attempts that were necessary. I am giving below only a couple of pictures to show you how complex this mechanism is:


Provided a needle, by a piece of single strand wire with red sleeve for the Tuning indicator and tried all functions once again and found that the set was working perfectly well.

Put the set for continuous working for several hours before I gave it to the Teacher, who was astonishingly happy to have it back in working condition.

Well, the 'satisfaction grain' with an added grin, was only glad to find its way into the bag.

This article was prepared for you by Parasuraman Subramanian from India. He is 69 years old and has more than 30 years' experience in handling antique equipment like Valve Radio, Amps, Reel Tape Recorders and currently studying latest tech-classes conducted by Kerala State Electronics Technicians' Association. He has done graduation in BBA degree, private diploma in Radio Engineering and retired as MD of a USA company. Presently working as Consultant to Hospital and other institutions.
Please give a support by clicking on the social buttons below. Your feedback on the post is welcome. Please leave it in the comments.
P.S-If you enjoyed reading this, click here to subscribe to my blog (free subscription). That way, you'll never miss a post. You can also forward this website link to your friends and colleagues-thanks!
You may check on his previous repair article below:
https://jestineyong.com/restoring-antique-valve-amplifier-ahuja-tm-50/
Likes
(

62

)
Dislikes
(

0

)