Mosquito Racket No Spark Repair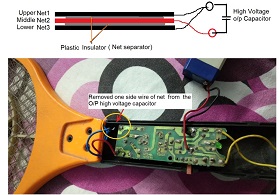 On visual inspection everything seems OK. no physical damage. while pressing high voltage trigger switch Red LED Light up.

still no spark while touching the net using screw driver.

So for further inspection I disassembled the Racket.

RED LED Lightup when pressing Trigger switch it indicates Up to Battery charging circuit ok. Checked Diode /Main Transistor /Transformer on cold testing seems OK.
Now need to check High Voltage circuit. Checked diode on charging circuit side found OK…..

Checked Diode On High voltage side all of three Diode showing Open circuit……

I found the culprit & desoldered the Diodes & I arranged 1N4007 diode from my parts box …suddenly I checked printed code on the Bad Diode, it is RFC 4K (It is 4000v Diode) & you cannot check the high voltage diode on normal diode test mode in Multimeter for open circuit.
So re soldered these diodes back on its location…… so how to check high voltage Output more than 1500V DC.
So what I did, for testing Spark on high voltage O/p Capacitor I removed one side wire of the Net from the high voltage o/p capacitor.
There are 3 Nets Installed & Plastic insulator fixed between each net which work as net separator. So that one net is not get touch with another net. If nets are shorting to each other, then Battery will drain fast & Racket is becomes useless till you charge it again.

& by pressing trigger switch I touched O/p capacitor pins & I got loud bang spark noise with spark of light.
It indicates High voltage is Ok ……then where is problem ……May be wires connected on the Net is damaged …. I opened the net housing check wire for continuity everything is Ok……. now what why there is no spark on the net……????
I am also confused……. now I am thinking & playing with Multimeter…. I exclaimed what is this??
Playing with Multimeter on beep mode and touching both the lead which produce beep sound & arranging some block in my mind for any clue I just put both the probe on one outer net on beep mode. but it does not reflect any result i.e. any resistance or beep …. wait a minute …. this is Aluminum Net & it should beep while touch …. I scratched one wire & checked again now it beeps….it means Aluminum is fully oxidized because of Moisture… (it is rainy season is going on.).
Now disassemble and scrub all the 3 nets is time consuming…so for saving the time what I did; I started my Gas stove & slowly moved the net side on it so that Moisture get cleaned…. after the process I checked for the spark & I got bang noise Spark everywhere on net wherever I touch with screw driver & it works like new.
Racket is repaired successfully.
Now my block arranging work is finished in mind & look what I noticed….

This is how I saved my time…. Lol

This article was prepared for you by Yogesh Panchal who works as a Computer Hardware Engineer in Mumbai India.
P.S- Do you know of any your friends who would benefit from this content that you are reading now? If so, forward this website to your friends or you can invite your friends to subscribe to my newsletter for free in this Link.
Note: You can check his previous repair articles on Repaired HDD Which Continuously Going To Auto Recovery Mode In Windows 10 With Blue Dump Error
Likes
(

46

)
Dislikes
(

0

)