Moto G 3rd Gen Mobile Repaired For Ringer/Speaker Not Working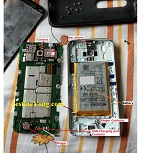 Received call from the customer referred by my friend for Mobile ringer tone not working. Customer handed over the mobile at my place.

By physical condition it seems like someone had tried because screen folder is not glued.
In Major new generation Mobiles for any repair inside first of all we have to remove the Display screen which is glued on mobile frame using Hot air Rework station and some very thin pry tools like …..

As I mentioned this display is already opened by someone before. Hence I removed the screen by opening the thin lever lock.

After removing the screen next step is to remove mainboard.
Removed all the screws by edges side of the mainboard.

On visual inspection I found someone has already replaced this ringer earlier. I found one wire is broken.

I have cut the length of both the wire and solder it back to the place. As I inspected earlier this ringer unit does not required soldering because contacts are already provided on the body. (See the Ringer Contacts in full disassembly photo).

The person who had attempt may be not having noticed. I have decided let it be. Because someone already had done. After confirming the working of ringer I have reassembled the unit. Now Mobile is ready for the pickup.
Have you noticed in my earlier articles also…..I am using some cloth on base while disassembling the unit??? there is reason behind it. It holds screw or any tiny component & don't allow them to bounce or skip and prevent the things to go missing.

This article was prepared for you by Yogesh Panchal who works as a Computer Hardware Engineer in Mumbai India.
P.S- Do you know of any your friends who would benefit from this content that you are reading now? If so, forward this website to your friends or you can invite your friends to subscribe to my newsletter for free in this Link.
Note: You can check his previous repair articles on Dell Inspiron Laptop With White Display Repair
Likes
(

51

)
Dislikes
(

0

)