Multiple DC Voltage Testing Points of Mainboard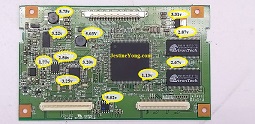 If you are repairing many same model of mainboard, there are plenty of ways to troubleshoot it. One of the ways is to power On the device and measure the DC voltages on various points of the mainboard. You need to mark the voltage just like the photo below:

Typical example of marked DC voltages on various test points on a TV Tcon board.
Advantages
1) Once you have taken the important points of the mainboard, you can compare it with the board under test. If you found any point that is different from the value that you have marked, you can start to troubleshoot on that suspected area instead of the whole mainboard which is very time consuming.
2) It saves lots of troubleshooting time because now you know where you should test and what DC voltage to expect on those points that you have marked
3) You will be able to learn the skill of marking DC voltage at various test points and apply it on other type of mainboard with much more confident.
Disadvantages
1) If you are not working for a company that distribute the same device, then it is not worth to mark down the voltage because there are thousands of different kind of mainboard in the market and there is no way you can mark down all of the mainboard.
2) It takes time to measure and mark down all the important voltages
3) During the initial measurement of the various points, if you are not careful enough you may short your test probes to adjacent pins of IC and other components in the circuit.
4) You may need time to understand the circuit functions you are measuring because one cannot simply put a test probe on any point they like. Worst, if the distributor company that you are working for them does not have any schematic diagram at all for that particular device or equipment.
5) Some circuits that are faulty may still show good DC voltage on certain points thus you will not be able to locate to the exact point of the problem.
Conclusion- If you are knowledgeable about electronics theories and have the extra time, you can perform the measurement beyond the DC voltage test points. This means beside DC voltage, you can measure on the frequency, digital signals, captured waveform and etc. The more different signals you can measure on various points on a mainboard the faster you will be able to pinpoint the fault. You can also use special test equipment to compare the signature between a good and a bad mainboard. What is your favorite testing point method? Or do you have other special method to solve a mainboard problem? Please post your comment below that is related to this topic. Thanks!

This article is brought to you by Jestine Yong. He is from Kuala Lumpur Malaysia and he loved electronics repair and blogging about electronics repair information. He is the author of the famous Basic Electronics Repair and SMPS Repair ebook . He is also a trainer and conduct electronics repair courses at Noahtech Electronics Training Center.
Please give a support by clicking on the social buttons below. Your feedback on the post is welcome. Please leave it in the comments.
P.S- If you enjoyed reading this article, click here to subscribe to my blog (free subscription). That way, you'll never miss a post. You can also forward this website link to your friends and colleagues-thanks!
You may also interested in his previous repair article on The Impedance Of Multimeters
Likes
(

61

)
Dislikes
(

1

)