MX320 all-in-one printer copier repair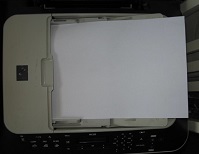 A friend recently brought me his MX320 all-in-one printer copier. This is an older printer without the now modern and probably also cheaper Ink cassettes that replace ink without any attached printerhead.
He said his Canon printer couldn't be used now because the A4 paper sheets wrinkled all up when sheets were transported in automatically from the back insert because no A4 sheet did transport in straight anymore.

The MX320 printer/copier showing the top scanner insert, and the vertical back insert.
He said that there was no hurry and I was glad because opening a printer is never easy. And you have to be careful not to smudge everything up with the old Ink from the inside. I always take a paper or something to put under the printer before I place it on my carpet or table. Because I know from my own HP printers that the cartridge holders sometimes leak Ink through from the printer bottom onto my table.
My friend gave me no manual or driver cd so I tested it stand-alone without pc attached.
I inserted an A4 sheet and tried to make a copy of it as you do with a normal copier by pressing the copy color button on the front panel. And that worked and the printer started to make a scan from a flat horizontal inserted sheet on top of the scanner. And not long after the scan started also the vertical inserted A4 sheet started to go in.
But again wrinkled all up because it not went in straight. So I took a look in the printer after this test and cleaned the heavily used Canon on the paper rollers with some wet tissue paper, were you also can see and replace the ink cartridges. The cartridge holders were on the right in their parking position and they didn't contain any ink or had totally dried out now.

A photo of the printer inside that I cleaned a bit in the hope to fix the complaint.
But that was later-on when I finally managed to 'repair' the paper transport on the back of the MX320.
So after that cleaning did do no good, because the paper still got wrinkled up inside, I tried to open the printer from the back to have a closer look on the paper rollers. I managed to remove the back black plastic cover, by removing the 2 screws, but noticed that I still couldn't see any of the transport rollers. I just saw some flatcables and other connectors but not what I hoped to see. So I closed the back cover again and was disappointed that it would mean much more work just to be able to see or clean the transport inside.

Above a look into the vertical paper insert on the MX320 back.
As you can see there was no easy way to get closer to any of the transport parts without removing the top scanner or maybe even the bottom and side covers also!
And since I had no service manual of this All-in-one Canon printer, I thought of giving up this repair. Because it was questionable if I even would be able to assemble all parts working again afterwards.
But I had a last thought!
I found a hard paper cover/cardboard from a box of some biscuits I ate, I opened it until it was flat, and I cut it into the correct fitting shape of an A4 sheet.
You see….my friend has some hairy cats at home and these hairs could cause a paper transport jam for a single sheet of paper. But what if I use this thicker and harder A4 paper instead?
So I redid my earlier scan copier test.
The A4 cut cardboard went in on the vertical cassette insert. And after a few seconds got stuck inside. But it went in straight and without wrinkling.
It wouldn't go in further so I then removed it manually by pulling the cardboard sheet backwards out of the back insert.
After I had extracted the A4 hardcover sheet, I did my scan copier test again with a normal sheet of paper.

Above photo: The automatic horizontal scanner paper insert feeder.
And guess what ? It worked ! The cardboard had nicely cleared the way for any A4 sheets vertical inserted on the automatic feeder on the back of this printer. No wrinkled sheets anymore! Paper jam solved. And the printer works as new again.
And this solution probably works on all kind of printers with this transport jam complaint. This same problem was mentioned by another friend of mine about three months ago. His very expensive HP all-in-one business printer had exactly the same wrinkled paper jam.
But repairing his very big desktop HP printer was almost impossible without any HP servicemanual and a lot of time you need to open it. Just as cleaning and fixing it would. Therefore he just had bought another identical second hand HP printer afterwards.
But after this repair I gave him yesterday this solution and hope he now also has his original printer working again.
Hope it helps anyone as it did help fixing my friends Canon MX320!
Greetings.
Albert van Bemmelen, Weert, The Netherlands.
Please give a support by clicking  on the social buttons below. Your feedback on the post is welcome. Please leave it in the comments.
P.S-  If you enjoyed reading this, click here to subscribe to my blog (free subscription). That way, you'll never miss a post. You can also forward this website link to your friends and colleagues-thanks!
Likes
(

111

)
Dislikes
(

1

)