Nakita Iron Power Trip Off Problem Solved Model No: YPF – 2005A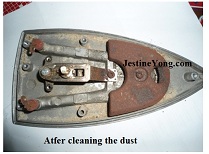 This iron was brought to me by a customer complaining that when he on the power the residual current device (RCD), for his power supply trip offs. (Customers actual words were: when I on the iron it chews all the power).
These were the some of the information's present on the sticker by the manufacturer:

As I opened the iron, looking for the problem visually, thinking that I might find some burnt wires or mains to be grounded, I couldn't find any of these problems with my naked eyes. From here, I took my meter, set it to continuity mode and measuring the continuity across the extension cord, thinking that may be the wire has melted inside the heat insulator which causes this problem.
All tests were ok according to the multimeter.
From here I noticed the dust inside the iron plate, which might be having intermittent effect on the power supply hence connecting across both the active and neutral and creating a short, that's why RCD goes off(but the meter couldn't read very fine intermittent voltage effect). In the picture below you can see the amount of dust present, and after cleaning how it looks.

The Iron is full of dust

After cleaning the dust I have to clean all the contact points with a sand paper, to ensure the correct supply of current demanded by the heating element. As shown in the picture below:

When assembled it was working fine without any trip offs. Have nice repair journey friends.

This article was prepared for you by Atish Chand From Fiji Islands.
Please give a support by clicking  on the social buttons below. Your feedback on the post is welcome. Please leave it in the comments. By the way if you have any good repair article that you want me to publish in this blog please do contact me HERE.
Likes
(

96

)
Dislikes
(

0

)