NCP1203P60 Datasheet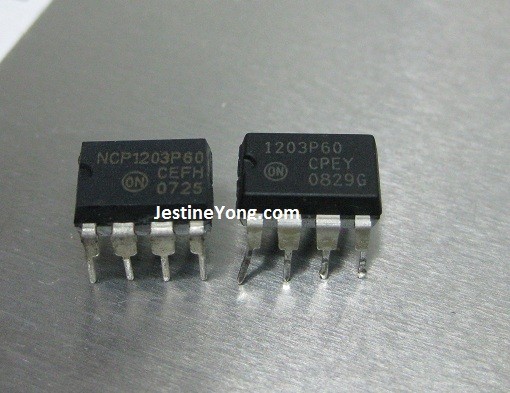 Could NCP1203P60 datasheet  different from 1203p60 datasheet pdf ? The reason I ask this question was because a Benq 19" LCD Monitor came in for repair have an unstable output power problem. With the mainboard connected the output voltages went up and down but when the mainboard was disconnected it worked perfectly good. I have found the problem and it was the power/inverter board.  This board is using the 1203p60 power IC without the NCP words in front.

Since I have three new NCP1203P60 IC, after fixing the IC there was no power at all. I installed an IC socket to test on the other new ICs and the result was the same –totally no power. The reason I install the IC socket so that the circuit track will not break from excessive soldering and desoldering of the ICs being tested. When I put back the original IC, the power came back! I was floored by this test result. It is either both the ICs are not compatible or the ICs that I bought have problem.  But then again, if you tell me that one if one IC have problem then it is acceptable, in this case 3 new ICs would not function!

If you search the NCP1203P60 datasheet or the application notes and 1203p60 datasheet from the internet you will get the same datasheet from ON semiconductor.  Have you ever came across that the NCP1203P60 cross reference is different from 1203p60 IC? If yes please do let me know-thanks. By the way, yesterday I went online to buy 1203p60 IC and I did not buy NCP1203P60 because I want to test it out first. Once I got this IC I will test it out and let you know the outcome. Expected IC arrival will be next week.
Likes
(

7

)
Dislikes
(

0

)