Nissan Pulsar Intermittent Wiper Relay Repaired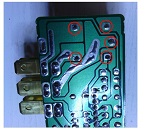 A customer of mine bought in her Nissan Pulsar with the complaint of the intermittent wipers not working and the wipers not 'parking' – returning to the bottom position of the windscreen.
Always start with the basics – fuses. I realised that the circuit had only one fuse to operate the system and therefore if at least some of the wipers were working (all the speeds operated OK), the fuse must be OK. After examining the system operation, I found what is called a wiper amplifier. This gives the system the ability to time the intermittent phase of the wiper system. This can be adjusted by varying the resistance via a potentiometer on the wiper stalk.
The amplifier was located behind the glovebox, which had to be removed.
Once removed, this is what it looked like.


Once again, before testing all the components, it is important to start with a thorough visual inspection. I carefully examined all the solder joints and found the fault straight away. Cold solder joints had appeared at all the relay contact points.

After examining them under my digital microscope, I could clearly see where the pins were not contacting.

It was only a matter of resoldering all the joints and then testing the unit on the vehicle. It was a simple repair that got the system up and running again. During the next rain, I received a text from a very satisfied customer, thanking me for the repair. Sometimes it is just as satisfying to receive a 'thank you' from a customer as it is to carry out a successful repair.

This article was prepared for you by Mark Rabone from Australia.
Please give a support by clicking  on the social buttons below. Your feedback on the post is welcome. Please leave it in the comments.
P.S- Do you know of any your friends who would benefit from this content that you are reading now? If so, forward this website to your friends or you can invite your friends to subscribe to my newsletter for free in this Link.
Note: You can check out his previous repair article below:
https://www.jestineyong.com/3d-printer-repair/
Likes
(

161

)
Dislikes
(

2

)