No Disc Error DVD Player- Philips DVP3608/94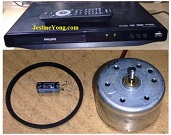 This Philips DVP was brought to me by a lady, whose 22 year old son was suffering from autism, with the complaint that it is not playing. Since her son is an addict to listening to music from this player, he was ransacking the house because it stopped playing. So, she requested me for an urgent attention.   Since I knew that it is going to take some time, I gave her my Sony DVD player and showed her how to connect it at her house, so that she can pacify and console her upset son. I learnt from her that the player was almost all the time playing one song or other, which meant that it was being extensively used. Let me mention here that whenever we accept a defective set, we should talk to the user and obtain as much details as possible, which would help us in our troubleshooting.
Opened the cover and played the DVP. It was getting on, responding to both remote and front panel control, and was also opening and closing, though it was sluggish. But showed no disc error after sometime, and the CD was not rotating. When I manually turned the CD, it started rotating. This indicated that there is something wrong in the spindle motor section.
I removed the loading tray after disconnecting the connectors to the main pcb. Opened the tray, removed the spindle motor and replaced with a new one from my stock. I also replaced the belt while the tray was open, as it was visible and easy. Then loaded a CD and played and found it was working.   In order to ensure that all possible problems are solved, I removed the SMPS PCB and looked at both sides and also checked ESR of all capacitors. Found that ESR of 10/16V in the primary power supply section was exceeding the limit. So, replaced it and did a dry solder patch up.

Fit the SMPS Board back and connected it to mother board. Switched on, it was working very well. (The picture of the 4" B/W CRT TV that I have for checking DVDs, looks hazy because of poor exposure, reasons for which are obvious)

So fit the cover back and retested it with many DVDs and CDs that I have and found that it was working very, very fine. You can also see the picture of parts replaced below:

Called up the customer and told her that her DVP was up and working fine. Another deserving job completed quickly and satisfactorily.

This article was prepared for you by Parasuraman Subramanian from India. He is 66 years old and has more than 30 years' experience in handling antiques equipment Valve Radio, Amps, Reel Tape Recorders and currently studying latest techs classes conduct by Kerala State Electronics Technicians' Association. He was a BBA graduate, retired as MD of a USA company.
Please give a support by clicking  on the social buttons below. Your feedback on the post is welcome. Please leave it in the comments.
P.S-If you enjoyed reading this, click here to subscribe to my blog (free subscription). That way, you'll never miss a post. You can also forward this website link to your friends and colleagues-thanks!
You may check on his previous repair article related to DVD Player Repair below:
https://jestineyong.com/no-eject-no-cd-problems-in-vinverth-dvd-player-solved/
https://jestineyong.com/dvd-player-no-eject-problem-solved/
and other related case by Suranga:
https://jestineyong.com/lg-dvd-player-repair/
https://jestineyong.com/no-disk-in-dvd-player-repaired/
Likes
(

109

)
Dislikes
(

0

)