No Display In Sony LED TV Repaired (Solved By Masking Pins)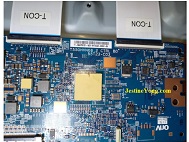 Make and model No: SONY, KDL-43W800C
Complaint reported : No display, but sound is ok
Observation : Complaint is genuine.
Action taken: Opened set after removing several screws, taking pictures of each area to put back the same type of screws. Removed cover, cleaned inside.
Trouble shooting done: No bulgy capacitors, burnt or strained components found. Checked and ensured that the power supply from the board is ok. Fed a video/audio signal and switched on the TV. Checked for voltages of VGH: 30.36, VGL: -10.51V, VCOM: 6.31, AVDD: 15.62, VDD: 3.3v and found these to be normal. Since the VGL was dropping to -6 and recovering to -10.51, suspected a problem in T-con board or Panel. Removed one side of the T-con cable that goes to the panel. Observed that the video was coming on to one side. Inserted it back and removed the other side.
Video was missing. Looked for the data pins near that cable, found it to be from pin 9 onwards, first 8 pins being the gamma input. Blanked four pins from pin 9 with a cut piece of paper, inserted the cable and switched on. Video was coming with vertical lines. So, blanked two more. Still picture was not ok. So, blanked the next two too. Now picture was ok. But there were a couple of not-so-prominent horizontal lines, which cannot be easily observed. (Guidance and instructions were from my technician friends through Whatsapp group) (Sorry, since I was talking to my guides and doing the paper piece insertion, I could not take pictures of it)
Post-service observation: Ran the TV in that condition for more than two hours and found it to be working well.
Final action taken: Closed the TV, putting back the screws in the appropriate places, studying the pictures taken and let the TV run for many hours before moving it to the delivery area.
Points to be pondered and discussed: While I carried out the guidance given by my friends, I am not sure how this masking is helping resolve such problems, though I know that many technicians are doing this.
My version is, if such short cuts are possible, why should the manufacturers, who are always keen in making an extra penny whenever and wherever possible, provide these circuits? A lay man cannot see a difference in picture quality with these track cuts! These are the points open for discussion and comments by our eminent readers; perhaps some technical explanation from our Experts across the Globe!
Result: Another satisfaction gem rolled into the bag, making sufficient room for itself!
PICTURE OF TV WITH ALL ITS BOARDS

THE T-CON BOARD, WITH STAGES OF REMOVING ONE SIDE




THE PROOF OF SUCCESS


This article was prepared for you by Parasuraman Subramanian from India. He is 69 years old and has more than 30 years' experience in handling antique equipment like Valve Radio, Amps, Reel Tape Recorders and currently studying latest tech-classes conducted by Kerala State Electronics Technicians' Association. He has done graduation in BBA degree, private diploma in Radio Engineering and retired as MD of a USA company. Presently working as Consultant to Hospital and other institutions.
Please give a support by clicking  on the social buttons below. Your feedback on the post is welcome. Please leave it in the comments.
P.S-If you enjoyed reading this, click here to subscribe to my blog (free subscription). That way, you'll never miss a post. You can also forward this website link to your friends and colleagues-thanks!
You may check on his previous repair article below:
https://jestineyong.com/no-power-in-pigeon-dvd-player-solved-and-defective-eye-unit-replaced/
Likes
(

64

)
Dislikes
(

1

)