No Heating In Microwave Oven Repaired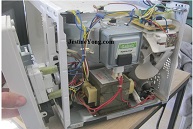 A guy who owns a repair shop brought me this microwave oven for repair. The device has an issue with heating and when the heating cycle is done, there is no ending ding sound to it.

The first thing to check was the heating parts which are the Magnetron, the capacitor and fuse in that area. I went over them one by one and to my surprise, all of them checked fine.
All these parts checked fine that means one thing, these part were not getting any power to go through the heating process and that brought to my attention the ding sound part at the end of the heating process. Usually when the heating process is done, there should be a ding sound to tell the operator that the process is done but there was none.

Since this power/timer button is mechanical, my focus was set on it and right away I found the problem.
==============================================
Advertisement

Click here to check out Microwave Oven Repair ebook By Humphrey Kimathi
====================================================
When turning the dial, I was not getting any ohms reading on the in and out pins of the power/timer button and when I move the button all the way back, I do not hear the ding sound.

I have the same exact part in my shop and right away I replaced it and tested out the microwave oven.

That is the whole part that I have to take out of its housing then replacing with the used working part. This part includes the power/timer button and on top the heat level button.

As you can see, that is a perfect fit for the replaced part and now for the moment of truth, I powered the microwave oven and tested it out. The device preformed as expected, the heating was fine and at the end of the heating process, I could hear the ding sound and that was music to my ears.
Mission Accomplished.

This article was prepared for you by Waleed Rishmawi, one of our 'Master Authors' and currently working in the Bethlehem area of Palestine repairing electrical and electronic equipment.
P.S- Do you know of any your friends who would benefit from this content that you are reading now? If so, forward this website to your friends or you can invite your friends to subscribe to my newsletter for free in this Link.
Note: You can check his previous repair articles in the link below:
https://jestineyong.com/power-supply-for-a-pool-lights-repaired/
Likes
(

65

)
Dislikes
(

0

)