No Load Taking Computer SMPS Restored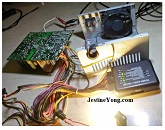 This SMPS was attended to in January, 2021. Just see my previous article: https://jestineyong.com/replacement-of-twobulged-capacitors-and-dry-solder-patch-up-brought-life-back-to-smps/
It was again brought to me with the complaint that it was not taking load. This belonged to the hospital where I worked, and the IT-Admin had done a thorough cleaning of inside. I brought it home and checked and found that the SMPS was switching on, but not taking the load of Auto bulb; i.e. voltage dropping. Then disconnected the power supply and discharged the tank capacitors.
As such complaints are mainly due to leaked or weak capacitors, I started checking ESRs and found these to be out of range. I removed one of the tank capacitors and found that it had leaked and slightly bulged out at top and bottom. It is difficult to make it out from the picture.

I removed the other one also and checked both in my SMD tester. Just see the results:

Replaced these two caps first and then went ahead and replaced all the other caps except the two I had changed last time (See special notes).
There were no dry solders. But found two yellow wires and two black wires were cut.

Cleaned the ends and soldered the four wires in its place. After checking for any man-made shorts, I applied power connecting my SMPS tester and giving a load of automobile bulb. It worked perfectly well.

Mission accomplished and satisfaction got added to the collection bag. Following is the departing pose given by the retired capacitors:

Special notes (1) Look at what happened to this SMPS when all the caps were not replaced when it came in last time. Is it not proof enough that replacing all the caps especially on power supplies is absolutely necessary? (2) Always check a computer SMPS thoroughly and look for strained or cut wires, as the computer technicians always pull the connectors by the wires.
(3) Last time I was not having 2200/16V and 470/16V as a replacement for 2200/10 and 470/10. So, I had put 2200/25 and 470/25, which were a bit bulky and were looking odd! But this time I had and I replaced these two. Before putting it back into my capacitor stock, I checked both the values and ESRs, which were found to be absolutely normal. This is important, as these are to be used in some other place.

This article was prepared for you by Parasuraman Subramanian from India. He is 72 years old and has more than 30 years' experience in handling antique equipment like Valve Radio, Amps, Reel Tape Recorders and currently studying latest tech-classes conducted by Kerala State Electronics Technicians' Association. He has done graduation in BBA degree, private diploma in Radio Engineering and retired as MD of a USA company. Presently working as Consultant to Hospital and other institutions.
Please give a support by clicking on the social buttons below. Your feedback on the post is welcome. Please leave it in the comments.
P.S-If you enjoyed reading this, click here to subscribe to my blog (free subscription). That way, you'll never miss a post. You can also forward this website link to your friends and colleagues-thanks!
You may check on his previous article on Beware Of Panel Broken Cases When No Display TVs are Taken Up For Service
Likes
(

68

)
Dislikes
(

0

)