No Output Voltage ln Domestic Automatic Voltage Regulator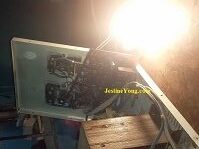 This 5 Kilo Watt voltage stabilizer was brought to my shop with complaint of not working. To be sure of complaint, I did plug it into a/c wall socket, the "ln Use" led lit up, indicating the transformer is o.k, but no output voltage.
I opened up the case and to my surprise, the inside was very dirty and dusty, so I did a good cleaning, see picture:

Then did virtual check on psb, observed all variable resistors rusted. Use my blue ESR meter to check all e-caps , some are out of ESR range, check other components: resistors, switches, transistors, diodes etc,all are good except variable resistors, few e-caps, switches.
So l did change all bad components, see pictures below:


Now is "moment of truth",I plugged appliance into a/c socket and I heard
some clicking sound from relays, the stabilizer came alive again, see pictures below:


I connected it to my deep freezer for 5 days and it worked perfectly, called the client for his "finished repaired work".

This article was prepared for you by Imoudu Onwumah from Nigeria. He is 62 years old and has just 3 years experience in electronics repairs. I started career in hotel industry as a chef, but then I was doing repairs only in electrical repairs as a hobbyist. In 2018, I decided to learn about electronics which through Jestine's electronics e-books and holding my hand, am an electronics techie today.
Please give a support by clicking on the social buttons below. Your feedback on the post is welcome. Please leave it in the comments.
P.S- If you enjoyed reading this, click here to subscribe to my blog (free subscription). That way, you'll never miss a post. You can also forward this website link to your friends and colleagues-thanks!
Note: You can read his previous article on Insect Mosquitoes E-Killer Repair
Likes
(

76

)
Dislikes
(

0

)