No Power In Desktop Computer Repaired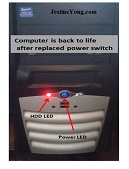 I have got a call from one of my customers regarding his "computer not working".  I have visited his place for troubleshoot the problem. On reaching his place I have turned "ON" the mains switch on visualizing inspection I found that the Monitor's power light was ok that means power line was also ok.  Now by pressing ON / Off switch of computer there was no sign of life. I began to troubleshoot by checking on the AC mains voltages to the Computer. I found 230V AC which means good. For your information, in India we are using 230 vac.
Since the computer was having problem, I decided to open it up and checked the connectors/wires for loose connection.-all seems to be good. The next check was the power On/Off switch.
The fastest way to check the Power switch in desktop computer is to remove the reset switch connector from motherboard and place it to the power connector. You can do  this because both switches have the same function- these are momentary switches.

After connecting the reset switch in place of power switch and powered On, the computer came back to life! This means the power momentary switch have problem.

I removed and replaced the power switch and see the result below:

This article was prepared for you by Yogesh Panchal who works as a Computer Hardware Engineer in Mumbai India.
Please give a support by clicking  on the social buttons below. Your feedback on the post is welcome. Please leave it in the comments.
P.S- Do you know of any your friends who would benefit from this content that you are reading now? If so, forward this website to your friends or you can invite your friends to subscribe to my newsletter for free in this Link.
Likes
(

291

)
Dislikes
(

5

)