No Power In LG 32 Inch LCD TV Repaired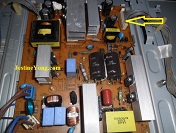 The complaint of this LG 32 Inch LCD TV was no power. For your info no power symptom can be caused by many factors. It is not necessary the power supply fault because the mainboard also can cause a no power symptom. This means you need to open up the set and check the power supply DC output to see where the problem is. Once the cover was removed I saw three circuit boards; the power board, mainboard and backlight inverter Board.

I checked on the DC output voltage first of the power supply and there was no power at all.
Actually I can check on the main fuse first but as you know different repairers have their own ways of what to check first. I can check on the main fuse first if I wanted to so it depends on individual preference.

Since there was no DC output voltage from the power supply this means the power supply itself have problem. Next, I checked on the main fuse and it was opened circuit and found the protection resistor was gone too.
I used my ohmmeter to check on the power IC VCC pin and the hot ground and there was a very ohm reading indicated the power IC was shorted internally.

I proceeded to check on other corresponding components and all seems to be working fine. Thus I concluded only the power IC and the protection resistor were the caused of the problem.

I replaced both the parts and powered it up but had to go through a 60 watt series light bulb. The bulb went off so I could put in a new main fuse and retested the set again.

The TV came back to life as you can see from the photo below:

Conclusion- In certain cases, there can be more bad components but in the above case, it was only the power IC and the protection resistor. If you wish to learn how to troubleshoot and repair Switch Mode Power Supply successfully, I can recommend Jestine Yong's SMPS repair ebook. You will learn lots of his SMPS troubleshooting and repair tips. He is running a promotion now where he provides technical support up to three months through Whatsapp and Signal app! Ok will see you again in the next repair article.

This article was prepared for you by Suranga Bandara who owns an Electronics repair shop in Anuradapura, Sri Lanka.
Please give a support by clicking on the social buttons below. Your feedback on the post is welcome. Please leave it in the comments. If you have electronic repair articles to share with us, please contact us HERE.
P.S- If you enjoyed reading the above article, click here to subscribe to my blog (free subscription). That way, you'll never miss a post. You can also forward this website link to your friends and colleagues-thanks!
Note: You may check out his previous post about Burnt SMD 8002A Sound IC
Likes
(

74

)
Dislikes
(

0

)