No Power In Philips LCD TV Repaired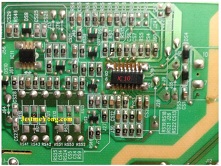 I received this Philips model: 32PFL3409/chassis TCM3.1 which was dead. From my past experience and bad encountered with cracked LCD panel, I find it  worthwhile to put in extra work to check for crack screen before the repair by exposing to sunlight. ( photo 1).

Photo 1 –Checking on the LCD panel for crack.
Under the sun the LCD screen does not show any sign of crack or defect so I proceed with the repair work. The first thing I noticed the fuse has blown on the power supply board. Normally with blown fuse there must be at least more than one parts shorted. Surprisingly, I could not find any shorted components. When I was checking the MOSFET drivers, I noticed that there were two capacitors CW2 and CW4 facing each other side by side with black marks on the surfaces ( Photo 2). When separated, capacitor CW4 showed sign of damages probably due to  high voltage breakdown since it is rated at 1KV.


Location of CW2 and CW4 on the schematic
I changed both capacitors CW2 and CW4 to higher voltage rating of 2KV with the same capacitance value.  I suspect power surge more than 1KV killed the capacitors. The fuse was temporary replaced by a 100W bulb to test the power supply after repair. When power was switched  on, the bulb glowed brightly for 1 to 2 seconds then goes to dim level which was a good sign. The TV sound can be heard but the backlight was not turn on even though the 24V is present and the BL-ON voltage is more than 2V.
I suspected there must be problem with the backlight high voltage inverter circuit .IC10 (OZ9976) is the backlight PWM controller IC. When I measured the input supply voltage on pin 15 the +12V  was found to be missing. I de-soldered pin 15 and turn on the power again, the +12V supply line was now back to normal. IC 10 confirmed to have shorted the +12V supply line.


Backlight high voltage inverter IC 10
After replacing IC 10, the backlight turn on and the TV is operating as normal. This is a simple and straight forward repair job. Hope you enjoy reading this article.

This article was prepared for you by SK Wong from Malaysia and he graduated from London with a degree in Electronics and Electrical Engineering. He has more than 40 years of experience in the consumer product manufacturing. With the passion to repair electronic products from young , he has been doing it part time until now.
Currently, he can provide turnkey solutions for consumer products including services from idea or concept to design , prototyping , finished products (including electronic,mechanical and plastic parts) and manufacturing.
Please give a support by clicking on the social buttons below. Your feedback on the post is welcome. Please leave it in the comments.
P.S-  If you enjoyed reading this, click here to subscribe to my blog (free subscription). That way, you'll never miss a post. You can also forward this website link to your friends and colleagues-thanks!
Note: You can check his previous repair articles below:
https://www.jestineyong.com/lg-plasma-tv-unable-to-turn-on-repaired/
Likes
(

182

)
Dislikes
(

0

)