No Power in Samsung LED TV 32 Inch Repaired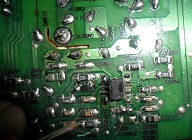 This 32 inch Samsung LED TV came in for repair with the complaint of no power. As usual the first thing I did was to open up the cover and check for the main fuse but the main fuse was good.
Using visual inspection to check on the power supply and the mainboard (photo below) did not notice anything unusual.

The moment I flipped the power supply board I was shocked to see a dead gekco at the back of the power supply primary side. I took out the dead gekco and cleaned the PCB board and found that the circuit track was in bad shape. See the three photos below:



Before I rejoin the broken circuit track, I checked on all the components in the affected area and found one SMD resistor 22 Ohm (22R0) was opened circuit. I did not straight away replace the power IC but instead I soldered a new 22 Ohm normal resistor to test it out to see if the power will come back or not. If you would like to learn how to test resistors and other components on PCB board, you can check out Jestine Yong's ebook here.
I also have connected a series light bulb. Unfortunately, there was still no power indicating the power IC may have spoilt also. See the two photos below:


Since I have the spare Power IC, I replaced it and retest the set and as expected, full power came and the TV display appeared.
This means, I replaced only two components….a resistor and power IC. See the two photos below:


Conclusion- If visual inspection did not detect any issue on the front side of the PCB board, then you need to flip the board and made sure all components leads are intact (properly soldered and no dead Gekco or other insects) before you can tell yourself that is the time to check and troubleshoot on faulty components. Hope to see you again in the next repair article.

This article was prepared for you by Suranga Bandara who owns an Electronics repair shop in Anuradapura, Sri Lanka.
Please give a support by clicking on the social buttons below. Your feedback on the post is welcome. Please leave it in the comments. If you have electronic repair articles to share with us, please contact us HERE.
P.S- If you enjoyed reading the above article, click here to subscribe to my blog (free subscription). That way, you'll never miss a post. You can also forward this website link to your friends and colleagues-thanks!
Note: You may check out his previous post about LG Mini Hi-Fi Repaired
Likes
(

74

)
Dislikes
(

0

)