No Power In Samsung ML-4050N Laserjet Printer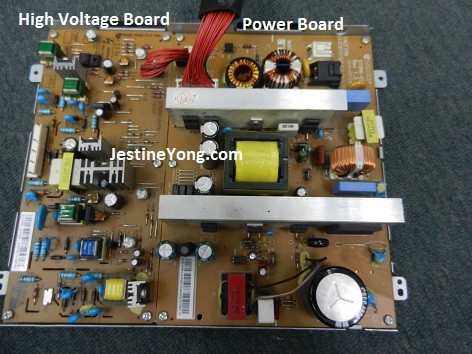 This printer was sent to my partner for repair and the complaint was no power. For your information my partner Mr William doesn't repair electronics board. If he encounters any electronics problem in printers he will ask me to troubleshoot and repair it. He is more specializing in the mechanical area/fusing/printer head of printers. He told me that it was not easy to remove the power supply board as one needs to dismantle many parts before you have the easy access to it.

Actually there are two circuit boards-one is the high voltage board and the other one is the power supply board. Since the complaint was no power so I concentrate on the power supply board. The first thing to check was the main fuse and it was tested good. There were no bulged electrolytic capacitors and while trying to search for any burn component I found a component marked as TH1 already cracked and hardly could see the whole part number. This component is a Thermistor while to some they refer to is as Thermister. Not only that, the heatsink located just behind the Thermistor had a burnt mark caused by the great spark of the Thermistor when it was exploded most probably due to the excessively high inrush current. Just to let you know that one of the main function of a Thermistor is to used as inrush current limiter.

A good Thermistor when testing it with Ohm meter it should show low Ohms reading. This particular Thermistor does not show any reading which means it is already open circuit. Please take not on this- whenever you found a burnt or open circuit Thermistor, you need to check the corresponding components as well. The main fuse did not blow does not mean other power semiconductors are good.

In my case, I did checked on the power FET, primary winding of the transformer and secondary diodes and all of these components were tested good. I'd also put special attention on the SMD power IC to see if there is any tiny burnt mark on the surface of the IC with the help of my X35 magnifying glass. Well, the SMD IC and the surrounding SMD components were in good condition too.

From the above simple scan through test I concluded that only the Thermistor having problem and I believe by replacing only the Thermistor could solve the problem. The question now is where to find the exact replacement since I could not trace the original part number datasheet? I left only two choices-either just connect a wire across it or use a replacement number. For your information if you use a wire as a replacement, then the power supply no longer have protection against inrush current. In the future if there is any excessive inrush current, many of the primary side components will be badly affected.

Since my store room has some junk Laserjet power boards, I took out a good Thermistor and used it as a replacement. My expectation was correct; the Laserjet came back to life once the AC power is applied. For your information, you need to turn On and Off the power many times to see if the replacement component is stable or not. If the replacement component has a too low spec then it may blow again. So, the best is to try On/Off the power supply many times before sending it back to your customer.

Conclusion- Not all switch mode power supplies are using Thermistor as protection against inrush current. I have seen many power supplies used low ohm wire wound resistor ranging from 2.2 to 4.7 ohm 5 to 10 watt as inrush current limiter. Some does not even have any of these components in their design. In the above case, fortunately only the Thermistor have problem. In some cases, a blown Thermistor could cause the power FET, power IC and corresponding components to blow as well and surely this will take more time and skill to troubleshoot it.
Hope you have enjoyed this repair article. Your feedback on the post is welcome. Please leave it in the comments.
Jestine Yong
Latest update: Just found the datasheet for both the Thermistors:

For more information about Varistor and Thermistor function please click on the links below:
http://en.wikipedia.org/wiki/Varistor
http://en.wikipedia.org/wiki/Thermistor

Click Here to Learn Basic Laserjet Printer Repair

Click Here To Learn Printer Head Repair
Likes
(

21

)
Dislikes
(

0

)