No Power In Seagate External USB HDD Repaired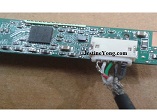 Customer walked in to my workshop with Seagate External USB HDD stating problem of HDD not working at all and NO power indication.

On connecting this external drive to my Computer setup I did not find any sign of Life there is no power indication light is glowing and while holding the drive in hand there is no indication of vibration. While external HDD working condition on holding or touching the casing you feel Vibration because Rotating Motor inside the HDD.
I have checked USB Cable on another HDD it works fine that means USB Cable is OK. So have removed the Top cover of the Casing and on visualize inspection I found +5V red cable which gives power to HDD was out of the Pin. So this is culprit.

So I have removed the HDD form the casing and then USB PCB which connects the HDD

Converter PCB from both the view

So now it is time to repair the cable. Very tedious job because cable is broken at the end of the Pin so I managed to remove the pin from the Connector.

After soldering then hookup wire to the Pin, I have inserted the pin back to its socket and resoldered the broken wire on it.
(Pin locking type is always differing for connectors this is my suggestion to new comers to do not throw any non repairable thing Just practice on it by just breaking the connectors and tries to understand how this clips locks inside the connector).

After the final touch I have reassembled everything and for testing I have connected the unit on my setup I got instant popup on the monitor screen of HDD detection and this unit is back to life again.

This article was prepared for you by Yogesh Panchal who works as a Computer Hardware Engineer in Mumbai India.
Please give a support by clicking on the social buttons below. Your feedback on the post is welcome. Please leave it in the comments.
P.S- Do you know of any your friends who would benefit from this content that you are reading now? If so, forward this website to your friends or you can invite your friends to subscribe to my newsletter for free in this Link.
Note: You can check his previous repair articles in the link below:
https://jestineyong.com/compaq-w185q-lcd-monitor-blank-screen-repaired/
Likes
(

95

)
Dislikes
(

0

)