No Power In Vitron LED TV Repaired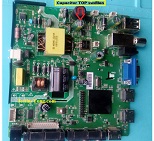 VITRON LED TELEVISION MODEL HTC3228 DEAD NOW REPAIRED
First let me confess that this was a repeat repair, for those who have been in this field for sometimes you all know how frustrating repeat repairs are. You receive equipment from a customer; work on it to your satisfaction, paid amount in full for job well done and after one to few days the customer is back with the same problem. In my case I received this television initially with the symptoms "no picture but audio present" and I repaired it seamlessly by replacing a single capacitor.

For more details on how I solved that problem kindly refer to this article on my blog here.
When the television was brought back I did some initial test and I realised that the television this time round has no audio and no picture and the power ON led is red(stand by). No amount of pressing the power ON button would get it out of this mode.
Since I had no idea what could be the problem from the initial tests I decided to put it aside for two days without even opening it.
I gathered courage and I decided to open it and went straight to the capacitor I replaced previously hoping it is still the one causing the problem only to find that I was wrong, the capacitor was found to be in good health and therefore I should check elsewhere.
Live voltage testing is one of my favourite troubleshooting method but this time I forgot it and found myself touching every I.C top with the back of my finger like a mad man.
To my surprise I noted almost all I.Cs were getting very hot, I tried to locate any component which was shorted and I got none.
With that I decided to call the owner and update him on my progress and told him that from the looks of it the problem is quite deep and the chances of survival for the television are slim.
He asked me what is the way forward, I advised him to consider an opinion of another tech and hear his views also before making final conclusion, he told no need just keep it for your spares.
My friend electronics just like medical profession need a second opinion, if your doctor tells you, your leg need amputation (God forbid) just ask him or her for a few days to organise yourself, go to other medics and hear their views and if all have the same conclusion then it means amputation is the best option for you but in most cases you will find it could be a simple solution for your problem and keep your leg etc.
Now that I have been given go ahead to send it to the dustbin, I decided to try one more time and then send it to the junk bin. So I opened it and this time decided to explore beneath panel to check the LEDs and see how they are behaving. Here you need to open the panel slowly and carefully otherwise chances are high of breaking the screen which I consider supper fragile and expensive to replace.
After opening it I decided to test the LEDs by using LED TV backlight tester and noted the two branches were dim. I isolated one branch and noted one branch lights with intensity but the other was still dim. I now concentrated on the dim one and tested one led at a time and found only one led was shorted.
Having no spare for the single LED and since the TV was already condemned; I decided to use a jumper wire across the faulty LED

After re-testing again using LED backlight tester I got all the LED now bright like the other branch.

I re-assembled the panel slowly and carefully and returned everything to its respective place and after applying the power the television came up beautifully. I told the owner of the television about the good report via what's-up since he works out of the county and was much impressed by the breaking news.
I returned the television to his family and now we are in the second week and the television is still working!
Thank you friends
Stay safe.

Humphrey Kimathi is from Nairobi Kenya and the author of

1) Lcd-Led television repair guide
3) CRT Television repair course and
4) Basic Electronics course.
He is also a blogger at Electronicsrepairmadeasy.com
Please give a support by clicking on the social buttons below. Your feedback on the post is welcome. Please leave it in the comments. If you have electronic repair articles to share with us, please contact us HERE.
P.S-  If you enjoyed reading the above article, click here to subscribe to my blog (free subscription). That way, you'll never miss a post. You can also forward this website link to your friends and colleagues-thanks!
Note: You may check out his previous post in the below links:
https://jestineyong.com/lg-led-television-model-32lb561u-dead-power-on-led-red-now-repaired/
Likes
(

76

)
Dislikes
(

4

)