Noise In Wire- How to Successfully Remove Noise In Wire By Using………..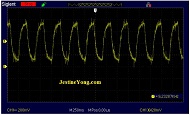 Hi my dear readers, in this writing I would discuss about a really simple form of problem in electronic device but a really heavy beast to fight it. Some time I call it "electronic dust". You got what I mean, I know, yes, I'm talking about signal noise in electronic devices.
I decide to write this article because I was asked to visit a company near me to see some strange behavior of a CNC machine. It is a huge one, some industrial stuff or so. Sorry because I can't take pictures, the reason is because of the internal politics of the company not to take pictures in there.
But I got an idea and made a simple experiment in my lab. Just to show what a big glorious mess can do the noise with your signal in your device, and you can spend hours to repair the device without success.
Let's start, the CNC had some strange behavior some time and it was unpredictable. Ok, I'm not a CNC guru, so I asked someone who is a great CNC programmer to help me to understand how thinks does works around. After we decide does no programming problem was the trigger of that strange problem on the machine I was starting to measure the I/O signals.
The I/O signals all some sort of digital signals and they was all ok. But after I was pushed to the wall and didn't found also nothing wrong, as well as colleagues before I sit down and just watched to the running pattern on my scope. Suddenly I saw on my scope a strange signal pattern. I pushed my scope to catch the signal again in a higher sample rate, so I can more zoom in and check what is going on with the signal.
I saw noise in the main signal. The edges were complete disturbed of the signal. I also realized does the noise should be some sort of conductive noise and not radiated noise. That means does maybe some power cable, connector or other low power cables which are so many around the machine maybe have a cracked shield or so, and now they act as an antenna.
The best way would be now to have a spectrum analyzer beside me, to identify the frequency range of the noise so I could maybe identify where it is coming from. I don't have one now by me, no problem, my scope is equipped with FFT function, which helped me too. I definitely was sure the noise is coming from the outside world and not from the machine circuit itself, like a bad PSU area or so…
Here is a simple setup I made to demonstrate the problem:
I used a simple circuit to generate some stable signal made with an NE555. To the output of the NE555 I connected 5m long two wire unshielded cable. The other end of the long cable I connected to my scope probe.
Let's see how the signal was looking when I powered on the NE555 with the long cable on it:

Can you realize the nice noise popping around the main signal? This noise is picked up from the environment through the cable what was connected to the NE555 pin3 and of course grounded too. Here is when I used a "magic" trick without any electronic and no shielded cable.

I don't use any electronics to filter the signal. I'm sure most of you know maybe the trick I done, but here is my "magic" :
You saw on USB, HDMI, power cables and many more sort of cables some devices like this

Maybe you asked sometime "why is this really for?" even if you know it is a sort of noise cancelling "device". Adding a ferrite clamp to a cable at that side where the signal enters into the device is a nice trick to filter the noise what was cached through a long cable.
I done the same thing on the CNC machine and on these test on my bench too.
Check out:

As you can see, I added a couple of turn through a ferrite ring where I attached the scope and the noise was really suppressed. On the CNC machine several shielded cables was broken, the shield was no more usable. I decide to change the whole cables and put also ferrite rings just in case. They are cheap and can't harm.
Now you can see how this little, simple trick with several turns around a ferrite ring helps as to fight the electronic dust and keep the main signal clean.
This technique with a simple scope must not have FFT function can help you not to get a headache until you try to repair a device.
I hope you enjoy this tutorial and will save lot of repair time.

This article was prepared for you by Christian Robert Adzic from Novi Knezevac-Serbia.
Please give a support by clicking  on the social buttons below. Your feedback on the post is welcome. Please leave it in the comments.
P.S-  If you enjoyed reading this, click here to subscribe to my blog (free subscription). That way, you'll never miss a post. You can also forward this website link to your friends and colleagues-thanks!
Note: You can check his previous post in the below link:
https://jestineyong.com/sonic-mole-chaser-repairing/
Likes
(

96

)
Dislikes
(

0

)