Nostalgic And Fascinating AM RADIO From A Single Chip TA7642!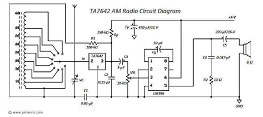 I take a break once in a while away from my monotonous service work and involve myself in assembly. I think I can comfortably say that Radio is as fascinating today as it was when invented. I had downloaded the following circuit diagram and read other articles in the website about a wonderful single IC TA7642, AM Radio. Though I wanted to do it, it looked like the time had come at last to make one and I just went ahead with it.
https://www.petervis.com/Radios/ta7642/ta7642-am-radio-ic.html
https://circuits-diy.com/simple-am-radio-reciever-circuit-using-ta7642-ic/
cornflake_radio_TA7642.pdf (16mb.com)
A Well Behaved MK484 – or -TA7642 Radio – The RadioBoard Forums

Found a suitable 'L' board lying around, a balance portion of one used for some other project. When we learnt electronics, most of us would have started from a Radio.
During my 'L' board time in electronics, I too used a lot of 'L' boards that were available for assembling radios, with positions for three IFTs, RF Coils and amplifier sections, which used push-pull-type Transistors in the output. Well, I went back to my 'Nursery' time when I got engrossed in this work!

Picked up all components required, looked through my collections of RF coils and found one lying around and it looked as though it was waiting to be used somewhere! Picked up a gang from a discarded FM/AM board. I used only the AM section of the Gang (PVC variable capacitor with AM/FM connections on two sides). I used 150K resistor for supply to Radio IC, as mentioned in the article as I was using 9V to drive the audio amplifier IC, LM386. Drilled holes and fixed the gang first.
Then drilled holes for the Antenna Rod to be fixed. Did not fix it then. Assembled all the components one by one, taking care not to mess it up and make a mistake. Picked up a volume control with switch, 9V battery connector, a small speaker and other miscellaneous things required and completed all work within about two hours. After all these, checked and rechecked the connections before applying power.


Connected the battery and switched on from the volume control cum on/off switch. I went back to my childhood when I tuned and got stations! Well, words cannot transcribe the thrill that I got when it was working and I mentally thanked all those authors who published these articles and provided guidelines. Adjusted the coil on the ferrite rod for peak performance. I am yet to try the tweaking and making fine adjustments by providing two pots, one at the input of main power to IC and one at the output of power to RF section (A Well Behaved MK484 – or -TA7642 Radio – The RadioBoard Forums). The next day, there was no power in our area for a few hours and this Radio gave me thrilling experiences and I had a cozy rest on an old Canvas Chair listening to music. Looked like the time I chose to assemble this was good! Now and then, I picked it out of the shelf and played it and I look at like a pet and did caress sometimes! (Have I gone crazy, well, I think so!)
Of-course, mission accomplished and satisfaction got added defeating all imaginary proportions! (LOL)

This article was prepared for you by Parasuraman Subramanian from India. He is 72 years old and has more than 30 years' experience in handling antique equipment like Valve Radio, Amps, Reel Tape Recorders and currently studying latest tech-classes conducted by Kerala State Electronics Technicians' Association. He has done graduation in BBA degree, private diploma in Radio Engineering and retired as MD of a USA company. Presently working as Consultant to Hospital and other institutions.
Please give a support by clicking on the social buttons below. Your feedback on the post is welcome. Please leave it in the comments.
P.S-If you enjoyed reading this, click here to subscribe to my blog (free subscription). That way, you'll never miss a post. You can also forward this website link to your friends and colleagues-thanks!
You may check on his previous article on Panasonic Two In One Repair
Likes
(

52

)
Dislikes
(

1

)