Not Common To See Duoyi DY294 Tester Taken Apart And Repair-Part 2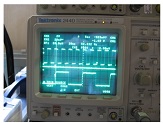 Click HERE for part 1.
After I previously discovered that Q1 C9013 wasn't working and gave unexpected results on my M12864 Tester I was almost certain that it must be the reason that my LCD still didn't work. And that was also because Q1 and therefore T1 didn't generate the correct voltages over D2. (Okay when about +3.07V on its Katode and about -7.15V on its Anode when the DY294 display is working). By-the-way: I tried to read the Avr Microprocessor on the M12864 with my new TL866A but the only result I got was that it was empty. Which most likely only means that is copy-protected with the protection fuse set. So whatever you do, never think it is and clear or reprogram it, because you'll definitely loose the M12864 program in there. And also note that this M12864 Tester probably gave wrong data results when measuring Coils P1 and P2 from Transformer T3 as given in this article.
I first tried another npn transistor type 2SC1213 by twisting pins Base and Collector to make it pin compatible. But that didn't work as expected. The DY294 still produced no active LC Display. And I didn't have any original 2SC9013 transistor, so I ordered 20 of them on Ebay. And I had to wait another couple of weeks before I could test again if my repair was indeed the success I hoped for.
Today I tested my DY294 by replacing the new received 2SC9013. Sadly the LC Display still didn't work afterwards and also the generated Voltage over D2 was still not correct. Which most likely is caused by AME chip problems because V- (pin34) and V+ (pin8) are directly connected to the anode and katode of zener D2. And I am afraid that therefore the chip likely crashed earlier the day after I had connected all 44 pins to the DY294 board. And I previously noticed that day a problem in the 6V DC input. It had a short circuit somewhere that maybe was caused by the not working 2SC1213 transistor. And although I had limited the current it was likely gone up in smoke. As written above written earlier the V+ and V- Voltage over D2 being 3.07V and -7.12V could be at least on the negative V- voltage a bit too high. Which also could have destroyed my new Controller chip.
So I probably now have to solder a new AME7106 onto the board and 2 new AME 44 pin smd chips are underway. If I only quickly could exchange this chip without the need of soldering another 44 pins again. Although first checking by connecting only all COM, IN LO , VREF- plus V – and V+ Controller chip supply pins, plus at least one LCD segment to begin with, could be a good way to check and determine the current flow into the chip. If it doesn't cause Under Voltage or Over current issues and the LC Display works, my DY294 repair is done. But because I made no error in connecting the AME7106 chip and my DY294 still didn't work as expected, it also could be that still some other controller chip is used. And that is because Controller chip pin3, which normally only as TEST activates all LCD segments, maybe here is used in a special way? But we can be certain that chip pins 1 and 2 (DEEN and INTEN) are not used because they simply are not connected.
Anyhow whatever the outcome will be, this article contains a lot of info about your DY294 and a warning how to keep your device healthy.
To show you what 6V 3A (!) Power Adapter is a good Adapter for the DY294 without damaging your rather expensive DUOYI DY294 device, the last photo shows an good Switching Power Supply that can be ordered from Aliexpress for just around $6 dollar. And you are able to run the large Current tests, as also is advised and written in the English downloadable DY294 Manual. The Chinese seller made the mistake to send me the wrong AC plug although I specifically ordered the EU version. Therefore they now also will send me a USA to EU converter Plug.
http://nl.aliexpress.com/item/1-x-Free-Shipping-3A-AC-Converter-Adapter-for-DC-6V-3000mA-3A-Power-Supply-Charger/32450830464.html

I am still trying to repair my defect DY294 and intend to destillate all the necessary data by connecting my second working DY294 to my Tektronix Oscilloscope. Which I hope will give all the needed answers. Of course it would be much simpler if the Manufacturer DUOYI would give some answers, like what controller they used, but sadly they didn't reply in any way. It is understandable that DUOYI wants to keep some secrets but I do not intend to copy their product as I am only trying to repair it. And since this article is now the only Service Manual that exists for the DY294, I think it will be useful for many DY owners.
After a few days I picked up were I left because the temperature was rising and it kept me busy thinking what to do with my still defect first DY294 device. And why my new AME7106 chip didn't work.
So this time I used my 350 MHz Tektronix oscilloscope to find more information about the DY294.
I opened my perfectly working second DY294 again and checked the signals on my Scope. But I first checked Diodes D1, D3 with my new MK graphical tester. They both were okay (746mV diodes). And I again checked Q3 and Q4 being okay. Then I checked if both T1 Transformers performed okay on the Blue Ring Tester. They were completely identical. All three Coils had the same results on both T1's. So then I also tried if my defect DY294 would work with the T1 Transformer from the working DY294.
As expected my defect DY294 still didn't work. Then I also checked the signals coming out of T1 to D1 and D3 on my oscilloscope. Although I could measure the periodic curves, they still didn't look anything like the signals on my working DY294, and the wrong voltages levels as result on D2 (the 10V Zener).
As another test I checked what the result was on my working DY if I would put an external DC voltage myself on D2 (between 6V <10V). The LCD worked fine! And I knew my defect DY294 only showed some wrong segments shortly when I input that same voltage on D2.
So my conclusion is that the AME7106 was defect, or the wrong chip. (but last thought probably was not true because the AME7106 is completely pin compatible with an ICL7106 controller, with HOLD and LOBAT pins extra were the ICL7106 has NC pins). Because it somehow corrupted the voltage coming from D2 and going directly to V+ and V-. And since already my first 2SC9013 was defect because of the wrong too high DC 6V input, and zener D2 still was okay afterwards. It could mean that only the C9013 was previously gone bad and not the original controller chip.
And to proof that my replacement AME7106 somehow is the reason that the voltages on D2 (V+ and V-) are corrupt, I only have to disable those supply lines to the AME7106 chip. Which I did and then noticed that indeed the total voltage over D2 was with about 10 Volt DC correct but still not equal to the V+ and V- levels of my working DY device. (Being cathode D2 0 Volt, anode D2 -10.38V which should be on a working DY294 +3.07V and -7.15V).
I also checked the potentiometer values of both DY294 devices. Value between Vref+ and R4 of VR1 202 was about 302 Ohm. Between R3 and Vref+ I measured about 1.762 KOhm. Which probably means that Vref+ is set to about 6V /(302+5.48k /(11.762K+302+5.48k) is about 2V. And Potentiometer VR2 is adjusted to a value of about 6.09 KOhm.
So I continued my tests but now with my Tektronix Oscilloscope. I noticed that the Scope signals only were displayed without any distortion when I used the COM connection for the Probe Ground wire. (Connector Signals Bat- and -6V were not usable as Scope ground). I furthermore noticed that on a perfectly working DY294 LC Display all pins had practically exactly the same square wave signal on all of the 40 working pins. And that this signal also can be measured on collector Q4 to base Q3. (The DC level on this Q4 to Q3 connection was 0V, obviously because the square wave is fully symmetrical). And also on R52 to LCD BP/GND. This signal was 4.55 Vtt and had a frequentie of 51.9Hz. On collector Q4 and base Q3 the signal was about 2.5Vtt with the same frequency of course. Next photo shows the Square wave Scope signal.

And on my defect DY294 these signals weren't there at all. So it must be the controller chip that is defect. Possibly from ESD static discharge or whatever reason unknown yet. It couldn't have been my great soldering skills. I also measured the T1 output signals to D1 and D3. This periodic AC signal was with 86KHz rather high. I knew now that my defect AME7106 controller didn't oscillate at all, why I didn't measure any activity at the R1, C6 and R52 components. And why the LCD didn't work either.
On R1 my scope showed next 29KHz signal. But again nothing was visible on R1 on my defect DY294. On my working DY294 I measured following signals: Top of C5 gave a 2Hz Square wave, Top of C6 gave a non-square signal with periodic 34.44uS pulse time, on bottom of C6 a signal with about 27.04uS pulse time, on bottom R1 a signal about 29.92uS pulse time. And on the bottom of R52 a nice Square wave of about 4.48Vtt at 51.4Hz as also is shown on above Scope view. None of these signals were found on my defect DY294 Meter Device. Except perhaps the 86KHz signal at secondary coil 4+5 of T1. The above mentioned components are the components that also make our LCD controller chip oscillate and operate in the wanted settings. There is an Auto-Zero capacitor called Caz (C4). And R1, C6 are most likely standard values for the LCD operating at about 3 readings/sec. (osc1 + osc2 to R1).

Previous photo shows the back of Mainboard which also is the back panel side of the LCD. Here the above mentioned signals can be measured on a good working DY294 device. On a bad DY294 you won't see any signals on C5, C6 or R1, R52 or on the LCD pins.
After I had placed another new 44 pins AME7106 chip my DY294 still didn't work at all. Now I am almost certain that pins OSC1, OSC2 and OSC3 just do not generate any Oscillating signal. And none of the LCD pins carry a square wave. I even tried if an external oscillating signal would work. It didn't! So I guess that the received smd AME7106 chips just do not work or are ESD damaged by the plastic folie they were packed in. So the only thing that rests me to do is try to find another AME7106 chip in another package that probably isn't as easily destroyed as the smd packages.
I also checked if I could find the original datasheet of the 40 pins 3.5 digit LCD (probably a special Shenzhen Manufactured Display). Because it could help the DY repair because some of the LCD pins are still unknown like pin 2. But I had no luck. All other 3.5 digit LCD's that circulate on internet are different!
I now really checked all other components and just couldn't find any other defect or problem. So I am almost certain that my defect DY294 will work perfectly when I insert a working AME7106 chip. It just has to! But all 3 new tested AME chips were completely dead so far. So I checked the internet again for other identical AD converters with LCD controller and found that also the CS7106GN (also made by a China Manufacturer) was completely pin compatible. And these also had HOLD and BatLO pin functions. And also a slightly higher max supply voltage which was better too. Sadly I had to buy 10 of them for about 26 Euro to get them Free Shipping. But it was all for Science if my project was going to be the success I calculated it had to be! And only when the replacement chip works this article is worth something.
I even bought 2 older type AME7106 DIP 40 Pins Chips to rule out that it wouldn't work (oscillate) by just connecting only the 100pF and 100K Ohm components to pins OSC1 to OSC3. (And of course also connecting the 40 DIP chip to the V- and V+ supply voltage of about 9V DC). Which was easy to test on a experimenters Breadboard anyway. Because none of my previous hard to solder new AME7106 44 pins smd chips ever worked! But I had to wait for more than the usual 3 weeks because of the Chinese New Year as everything was closed for 2 more weeks at least.
While I tested my DY294 on my scope previously, I lost, totally unexpected, one of the copper sliding contacts of the Dial Switch. It Jumped unexpectedly up and went lost instantly. Because I couldn't find it anymore in my repair room, after 2 days of searching, I ordered a very cheap DT830B Digital Meter in the hope to use one of its contacts for my DY repair. I am not sure if it has the identical copper contacts. But I know that the 15 euro costing EM390 Universal Digital Meter has the identical contacts like used in the DY294. Anyhow the DT830B is a lot cheaper to use for spare parts.
It indeed turned out I was lucky because the copper contacts of the received DT830B Meter did fit nicely on the DY294 Dial selector knob. (Although they were slightly more pointy).
And after a long wait, 2 AME7106 CPL 40 Pins DIP chips finally arrived after almost 30 days of waiting. Nicely packed on a pink ESD safe cushion. I tested 1 on a experimenter's Board by only connecting V+ and V- (about 9V DC between both), and 100 KOhm between pins 40 and 39, and a capacitor of 100 pico Farad between pins 40 and 38. And I checked if the AME chip would oscillate. It DID!
So this really proves that the 4 previous received and tested AME7106ackw 44 pins SMD chips were fake or defect, because all 4 were completely dead! I had to wait until my 10 new SMD 44 pins chips CS7106GN had arrived to continue my quite intensive repair.
Following photo's show that the AME7106cpl DIP version really oscillates compared to the not working previous 44 pins AME7106ackw smd chips. (And also look at my in a previous article repaired Tektronix 2440 oscilloscope, with on top of that the Tektronix 2465A oscilloscope!)

And also look at the DIP AME7106 Under Test at a Voltage (V+ to V-) of about 9 V DC on the Board below. Left from the board you see my new (Aliexpress) Desolder Pistol that works splendid and was very affordable! The Tektronix 2465A was bought in Texas USA last year and its Lithium Backup Battery was replaced according to the very good article from Robert Calk from Texas.
In that respect I have to mention that those original Lithium Eagle Picher are no longer manufactured by Eagle Picher according to a mail I recently received from a Eagle Picher representative. And therefore no longer can be bought. Because I was also looking for a replacement Lithium for the still original Tektronix 2440 Scope Backup Lithium that probably has been working now for 30 years on end. So I bought a couple of compatible SAFT Lithium Batteries for 13 euro on Aliexpress to replace the original BT800 LTC-16P-CO-F-S (3.5V 1.6A). Because the SAFT LS14500 AA ER14505M Lithiums are with 3.6V 2600mAh probably a little bigger, I do hope they will fit on the Tektronix Board.
As can be seen on the top Tektronix 2465A scope, the square wave signal – that can be measured at almost every pin of the DIP chip – has a frequency of about 52.2 Hz.


The previous Tektronix 2440 Memory oscilloscope screen shows in the screen below the about 52.632 Hz square wave signal but also the previous in Memory recorded Oscilloscope's Calibration Square wave in the CRT screen in the top (CH2 unchanged signal, compared to the live CH1 AME chip 52.632 Hz signal).
After I also received the 10 ordered (about 27 euro Aliexpress) CS7106GN smd chips I tested 1 CS7106GN on my defect DY294 after having tested my previous AME7106 smd chips that just didn't work. Also this time I didn't use my Digital Meter to test on any of the already made connections on shorts. Because next to ESD unsafe handling of these chips also the meter voltage could be destructive somehow on diode/beep-test. And I also bought (33 euro) a ESD 100×60 cm ESD high temperature resistive Mat with ESD safe Wrist band.
And YES the DY 294 finally worked!!!!
Next photos as proof clearly show that my repair article is correct and complete! As you can see only the already connected CS7106GN pins to the LCD segments of the DY294 are activated! And all signals finally are present (oscillating DY294 chip at last!!) as earlier in this article was shown.
First following photo shows all received and perfect working CS7106GN chips. Followed by a photo of 2 of the 4 just useless AME7106ackw chips I already desoldered again (4 x 44 pins!!)!
Third photo shows my at about 9V DC adjusted Power Supply. And next photos show to the Power Supply connected DY294 board with Voltage input over Diode D2 (I added an extra 9V DC Zener for safety reasons). And last photos clearly proof that only the connected segments show.



This concludes my now successfully closed DY294 repair!
Keep repairing those defective devices!

Albert van Bemmelen, Weert, The Netherlands.
Please give a support by clicking on the social buttons below. Your feedback on the post is welcome. Please leave it in the comments.
P.S- If you enjoyed reading this, click here to subscribe to my blog (free subscription). That way, you'll never miss a post. You can also forward this website link to your friends and colleagues-thanks!
Likes
(

51

)
Dislikes
(

0

)