One Vertical Line In 29″ Hitachi TV Repaired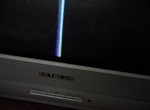 My customer told me that his 29″ Hitachi CRT TV had a vertical line at the center of the screen. In order to confirm the problem, I had to turn on the TV and check on the fault. Indeed it was one vertical line. In some other cases, when I turned On TV it was one horizontal line. One vertical line and one horizontal line problem were caused by different section in the TV. Once you have confirmed the fault then it would be easy to troubleshoot only on that problematic section.
Below is the photo of the internal circuit board of the TV and it was covered by dust. I need to clean it before start with my first troubleshooting procedures which was the visual inspection.

Since I already knew the problem, I checked on the high voltage and horizontal width area. I found the safety capacitor was opened at the side layer.

I proceeded to check all the corresponding components and found another component which was the diode already shorted.
See the photo below:

There were only two components been replaced and when I turned On the set , I could see the display (noise). I let it run for few hours before sending the TV back to the customer.



Conclusion- Visual inspection is powerful. Don't go straight to use meters to start checking the components as this could be a waste of your time. Always start with visual inspection first before go deep into troubleshooting such as voltage and signal checking, browse through components datasheet, using whatever home made gadgets you have and etc. Alright, will see you again next time.

This article was prepared for you by Suranga Bandara who owns an Electronics repair shop in Anuradapura, Sri Lanka.
Please give a support by clicking on the social buttons below. Your feedback on the post is welcome. Please leave it in the comments. If you have electronic repair articles to share with us, please contact us HERE.
P.S- If you enjoyed reading the above article, click here to subscribe to my blog (free subscription). That way, you'll never miss a post. You can also forward this website link to your friends and colleagues-thanks!
Note: You may check out his previous post in the below links:
https://jestineyong.com/unwanted-visitor-found-in-lg-43-inch-led-tv/
Likes
(

81

)
Dislikes
(

0

)