Open Circuit in SMD Resistor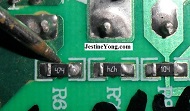 Customer sent to me this Telesonic FM Radio with the complaint of no power and cannot be charged. After opening up the cover I went straight to the power and charging section and check for any burnt components using visual inspection. All the components were in good condition. Eyes can only see the exterior and for the interior I need to perform voltage and component checking.
The bridge rectifier was removed and tested off board and found to be good. Sometimes a leaky bridge rectifier would not blow the main fuse. If there is a heavy short circuit in just one of the diodes inside the bridge rectifier, the main fuse would surely blow.

Next, I checked on the surrounding components and found one SMD resistor (R2) with the of 474 had an open circuit. The SMD part number 474 means it is a 470 K Ohm. See the photo below:

Since I do not have the ready part with me, I decided to search for the exact part number from the junk boards.
After sometimes of searching, finally I found two located in the used power supply board.

Soldering back the replacement part and powered On, I got the voltage of 6.31 Volt and by looking at the front power LED I knew that this FM radio was already working fine. See the two photos below:


Conclusion- You must know how to perform voltage test and components checking if you want to be succeed in repairing things. If you are a beginner or hobbyist and would like to know more about basic electronic repair I can recommend to you this ebook by Jestine Yong. By the way troubleshooting and repairing electronics equipment is fun and satisfying and at the same time can earn some income from it. You don't feel bored when you loved your job. Even spending many hours in repairing and finding out the fault you do not feel that it is a work. Ok, will see you again in the next repair article.

This article was prepared for you by Suranga Bandara who owns an Electronics repair shop in Anuradapura, Sri Lanka.
Please give a support by clicking on the social buttons below. Your feedback on the post is welcome. Please leave it in the comments. If you have electronic repair articles to share with us, please contact us HERE.
P.S- If you enjoyed reading the above article, click here to subscribe to my blog (free subscription). That way, you'll never miss a post. You can also forward this website link to your friends and colleagues-thanks!
Note: You may check out his previous post in the below links:
https://jestineyong.com/missing-component-in-tv-repaired/
Likes
(

71

)
Dislikes
(

0

)