Open SMPS Transformer Hand-Wound In Mobile Charger TC-70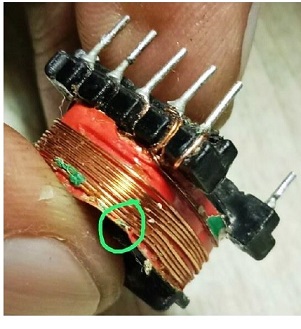 For a change, this time it was my own device that became defective. My mobile charger conked off one day and I kept it aside for investigation for a later day.
Recently, I just opened the case and checked as to what went wrong. The fuse (a low ohm resistor) was intact. I did not find any pot belly cap either. When I used the ring tester, the LEDs did not light up. Though I checked up all the components in the primary and secondary, there were no defectives. At-first I was baffled.
Then by a sheer chance, I used my multimeter to check the primary of the transformer and was surprised to note that it was open! First I thought it could be some dry solder on the leg. So, I removed the transformer.

After doing one more checking to be doubly sure, I peeled the outer tape and gently looked into for any burnt end or fungi attacked leads. There were none. I became curious. I shook the Ferrite Formers by inserting plastic screw drivers and after nudging several times, it became lose. Then I sprayed IPA on the bonds, and finally it got released. Then, I made note of the winding direction and started removing the coil one by one. There were totally four windings. After removing the third winding, I saw the place where there was a fungi formation and the wire was eaten away there. This was on the fourth winding.

As there was only a dot which was cut, I soldered both ends and covered it with tape to provide insulation. Then wound the coils one by one by hand, making it as close as possible and following the order in which it was wound.
Unfortunately, in my excitement I forgot to click the stages. After rewinding and fixing the formers, the transformer looked in good shape.

Then fit it in the board and tested it to find the output voltage giving a pleasant surprise and experience!

Mission accomplished adding intense satisfaction to the collections.
Following are the pictures of Switching IC and battery charge control IC:


This article was prepared for you by Parasuraman Subramanian from India. He is 72 years old and has more than 30 years' experience in handling antique equipment like Valve Radio, Amps, Reel Tape Recorders and currently studying latest tech-classes conducted by Kerala State Electronics Technicians' Association. He has done graduation in BBA degree, private diploma in Radio Engineering and retired as MD of a USA company. Presently working as Consultant to Hospital and other institutions.
Please give a support by clicking on the social buttons below. Your feedback on the post is welcome. Please leave it in the comments.
P.S-If you enjoyed reading this, click here to subscribe to my blog (free subscription). That way, you'll never miss a post. You can also forward this website link to your friends and colleagues-thanks!
You may check on his previous article on Rusted And Corroded Crystal Oscillators Found In Cambridge Audio AZUR-540C
Likes
(

68

)
Dislikes
(

1

)