Over Heating Laptop Repaired. Model: Compaq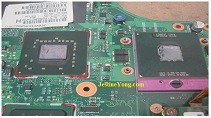 As I was sitting in my shop preparing to write some articles, I noticed the extra heat that the fan was kicking out of my laptop. I had this laptop for about 15 years and I never opened it before because I did not have to. It was given to me by my sister in law because the screen was broken and she was not interested in getting it fixed.

A friend of mine who is a computer technician noticed the same thing when he was checking my laptop.
So I decided to open it and see what surprises I have inside this laptop.

As I took the screws off the back of the laptop, I took the key board off, I noticed the first ugly site; a lot of dust on the fan and its surrounding area.

I was not expecting to see this though because if you look to the markings of the two cables here you would see that both are connected to their wrong color that is marked on the label.
Since the laptop was working fine, I assuming that it is just bad labeling.  Anyway, the repair continues.

More dust is found here as well and in my mind I am thinking how dry the thermal paste on the main chip is going look like?

A closer look to the fan and the vent, they were full of dust and dirt and had to be cleaned.

Finally, I got to the main chip and its heat sink and as I took the four screws on that metal, I saw this.

The thermal paste there was like putty that is dry and I could peal them easily off these chips.

It was really dry and dusty and had to be cleaned and add more fresh thermal paste to it.

More dry paste inside this laptop that needed my repair attention.

So I cleaned the two chips, cleaned the heat metals, added fresh thermal paste and I put it all back together and tested it out.
The fan was spinning nice and quiet, no dust and overheating and no more computer freezing or restarting. I love my maintained laptop.
Mission accomplished.

This article was prepared for you by Waleed Rishmawi, one of our 'Master Authors' and currently working in the Bethlehem area of Palestine repairing electrical and electronic equipment.
P.S- Do you know of any your friends who would benefit from this content that you are reading now? If so, forward this website to your friends or you can invite your friends to subscribe to my newsletter for free in this Link.
Note: You can check his previous repair articles in the link below:
https://jestineyong.com/not-charging-in-iphone-6-plus-repaired/
Likes
(

58

)
Dislikes
(

2

)