Overheating trouble in PC solved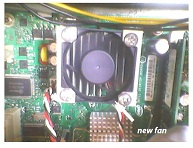 This PC was brought to me and the complaint was that the Operating System needed to be re-installed according to the opinion of the customer.
Why? I asked. He answered when the PC was turned-on for about 15 minutes, the OperatingSystem (SO) worked very slow and he had to reset the PC. From his explanation I realized it could be a hardware trouble. The Motherboard was an INTEL Desktop D201GLY.
The PC was disassembled and then turned on again and here is what I saw:

The Microprocessor fan was not rotating and therefore the Microprocessor was overheating causing  OS to hang.  I'd like to repeat something that I've said in this website more than thrice: I do not know why people try to solve almost all PC troubles with an Operating System re-installation. And as we can see in this real case, it's a hardware malfunction and nothing to do with the Operating System.
First of all the fan was unplugged from the motherboard and checked with the Floppy Disk Drive (FDD) connector (yellow and black cables). Even with the 12 volt dc supply I got from the Floppy drive connector and connected it to the fan it still would not rotate.

This means the fan had to be replaced.
It really took me one week to find a suitable fan, and when it was put into the radiator, look what happened to the fan. You can see the photo below.

As you can see the new fan really worked so the story of this job had concluded and the customer was very happy.

This article was prepared for you by Humberto Rodriguez, one of our 'Master Authors' from Cuba.
Please give a support by clicking  on the social buttons below. Your feedback on the post is welcome. Please leave it in the comments.
P.S- Do you know of any your friends who would benefit from this content that you are reading now? If so, forward this website to your friends or you can invite your friends to subscribe to my newsletter for free in this Link.
Likes

(36)
Dislikes

(0)
Likes
(

3

)
Dislikes
(

0

)