Packard Bell Easynote TS13 SB 041NL Laptop Repaired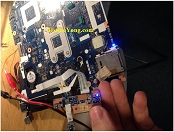 Recently I was asked to repair a Packard Bell Easynote TS13 SB 041NL Laptop.
The computer Mainboard was completely dead, and as often in these cases also was the original Lite-on Power Adapter. And because of it also the Battery Pack was completely empty, as both facts are related. This repair will be a perfect example how to repair almost any computer Mainboard that even doesn't work with another brand new Adapter attached anymore!
After a new working 19V 3.42A Adapter was attached we first have to measure if the Vin voltage goes into the Mainboard without any problem. But the in-going 19V Vin voltage was reduced to about 0.68V or less, and some Mosfets got extremely hot instantly.
First I replaced both P-channel PQ6 and PQ7 input regulating Mosfets after it turned out they were not working . But still the input voltage collapsed to a measly 0.68V again and nothing worked because of it. And because I measured a shortcut to ground on the mainboard input right after both Mosfets it was no use to replace them again just now.
Obviously there was another reason that still kept the Laptop from powering up. And because it can be a shorting component on the Mainboard, but also can be a shorting Multilayer PCB Mainboard itself, we have to take extreme measurements to find the exact cause.

Both Mosfets PQ6 and 7 normally protect the Laptop and Battery Pack from over-charging, and when they switch off (open Drain-Source connections) Vin is kept from going through. Below page 41 of
the Packard Bell compal_la-6973p service manual that makes it more visible how the protection circuit around PQ6 and PQ7 works. On resembling Mainboard circuits both Mosfets are named PQ7 and PQ8 with other differences too, but overall the way how they operate is the same.

Click to enlarge the schematic

Previous photo shows the Model Label on the Laptop Bottom. And the Power Supply below is what you need in this case to find the problem causing culprit. I used a KPS 3010D adjustable Power Supply for this. That unit easily gives up to 10 Amps that can be set at a voltage of 19V we now need.

I found the Service manual almost identical to that of the Easynote TS13 SB 041NL at these links:
http://www.s-manuals.com/notebook/packard_bell_easynote_ts11
http://www.s-manuals.com/pdf/motherboard/compal/compal_la-6901p_r2.0_schematics.pdf
Below a bigger picture of the Input circuit around PQ6 and PQ7.

As you can see both gates are controlled by PQ8 and PQ13 and other components. Together with the circuit around controller PU1 the Battery gets charged (or not). Depending on the precision current measuring Resistor PR14 (1%) with marking R020 , PU1 checks the going-in-current to the Battery Pack on pins 19 and 20 (labelled CSIN and CSIP).
Next we have to use the presented (or another short circuit proof) Power Supply at a decent high enough current at 19V. And we attach the Plus of our Input supply Voltage right behind both now removed PQ6 and PQ7 mosfets at the right side of PR14 (to prevent also blowing up our measuring
resistor in the process). Of course our input voltage now still collapses but since I had set the current to about 6.5 Amps, something must get hot somewhere on the Mainboard as a result. And because of that short circuit also the original Power Adapter was killed without doubt.
Although the hot spot can be found with a IR Temperature contactless measuring Gun, the spot can be so small that it takes too much time to find it that way. So I tracked all components fast by using my fingers while checking the entire Mainboard. And next photo shows the cause of our dead mainboard AND dead original Power Adapter!

The red circled capacitor had turned into a resistor that got very hot because of our much higher than normal input current. And if we look at our Service manual on page 42 it shows the here very tiny PQ20 and PQ22 Mosfets. We also see that it was the 3.3Volt Mainboard circuit that had a Short circuit in it why nothing worked and also why the Power Adapter previously got defect.
The PU2 controller on that page 42 controlled the 5VALWP output voltage on its right side, and the short circuited 3.3VALWP output voltage on its left. And because both voltages always need to be present, our Laptop kept completely dead for a good reason. The cause was a shorted Capacitor that had turned into a hot 68 degrees Celcius Resistor that also was a visible change into a darker brown color compared to the Capacitor left from it. In below Circuit it shows the Capacitors that all were shorted to ground because of only one bad Capacitor in parallel that stopped the entire Mainboard from working! In another incredible repair I did, it was the Multilayer Board that was the cause of the collapsing Vin Adapter voltage.
So now again it was only a very small component that needed to be replaced at again almost no cost to make this Packard Bell Easynote Laptop Mainboard fixed like a new one! (Not bad for a Mainboard that still costs about 135 Dollar/Euro second hand?).

Click to enlarge the schematic
On one of the previous photos both wires attached to the Vin input connector were used to check if the repair was successful before the Board was completely build back in again.
After I replaced the bad tiny Capacitor, and also PQ6 and PQ7 (by a type P-channel 4407 Mosfet), next Photos show that the Laptop finally worked again and that Windows was Back!
I am sure that anyone will benefit from using a Heavy Duty Power Supply the way I did in this repair. It surely will save you much time and frustration. This method helped me very often in the past.
In the way described it saves you the time to having to check every single Capacitor or component.
And since time is money and both are limited, I wish you good luck in your next repair too (although it probably has nothing to do with luck, but only with good science)!!
Until next time. And I hope you enjoyed it as much as I did!




Albert van Bemmelen, Weert, The Netherlands.
Please give a support by clicking on the social buttons below. Your feedback on the post is welcome. Please leave it in the comments.
P.S- If you enjoyed reading this, click here to subscribe to my blog (free subscription). That way, you'll never miss a post. You can also forward this website link to your friends and colleagues-thanks!
Note: You can read his previous repair article in the below link:
https://jestineyong.com/tda2658-ic-replaced-in-philips-color-monitor/
Likes
(

119

)
Dislikes
(

0

)