Panasonic Ceiling Fan Repaired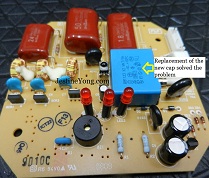 A friend of mine brought to me his friend's ceiling fan circuit board for repair. The complaint was no response when the remote control was pressed. He did not suspect the remote control because he could use that remote control to turn on another similar fan. The first thing I did was to look at the board and see if there is any burnt component and dry joints. There were no burnt components and dry joints.

Since I do not have the complete fan with me to hook up for testing, the only thing that I can do is to check some of the suspected components like fuse, capacitors, diodes and transistors. The first component I checked was the main fuse and it was fine. The next component was the big black square capacitor. To my surprise the capacitance value was way out.
It was a .82uf 275v capacitor and it measured only .142uf (see the photo below).

The rest of the corresponding components checked to be good so I presumed only this capacitor was the cause of the problem.

Note: A shorted semiconductor could cause a circuit to cease operation thus it is a good practice to check on other components also.
Since I do not have the schematic diagram, I have to view the circuit from the back and to find out why this capacitor could cause the fan not to function. When I traced this capacitor circuit I found that it was actually connected in between one of the main ac line with another circuit. One of the functions of capacitor is to block DC and let AC to pass through. Since this capacitor value was so low thus there would be very low AC signal can pass through causing no response when the remote control was pressed.

After the replacement of the capacitor was done, I gave it back to my friend. He then sent it back to his friend and fixed it- the fan worked like a charm.

This article is brought to you by Jestine Yong
Please give a support by clicking on the social buttons below. Your feedback on the post is welcome. Please leave it in the comments.
P.S- Do you know of any your friends who would benefit from this content that you are reading now? If so, forward this website to your friends or you can invite your friends to subscribe to my newsletter for free in this Link.

Likes
(

233

)
Dislikes
(

0

)