Panasonic Ceiling Fan Repaired- Part 2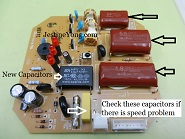 Please check out the previous Panasonic Ceiling Fan Repair article below:
https://www.jestineyong.com/panasonic-ceiling-fan-repair/

My friend sent to me again another similar fan circuit board (he got it from his friend) with the same complaint- no response from the remote control. The first component that I checked was the big capacitor and it turned out bad (see photo below)

I further checked on the surrounding components and found another capacitor value was out- .1uf 275v (see photo below).

I concluded that this fan model have a common fault which is failure in the capacitors.
Note: One of the comments by SKWong in the previous article mentioned was:
"Capacitors in remote ceiling fan always give problem after running a number of years especially the 3 red metalized film capacitors. When you have speed problem check these capacitors."
So please take note on this. If you encountered any ceiling fan with speed problem in the future go directly to check on the 3 capacitors.
When I was in the electronics repair shop to purchase these capacitors, the seller immediately told me that the capacitors are for the remote control ceiling fan. I guess he knew this because there may be a demand for such parts. The price of .82uf 310v per piece was USD 1.90 and the .1uf 275v was USD 0.9. I bought few more pieces to keep as spare.

For your information, the capacitor that I bought has the website address printed www.szsrdz.com. In fact it is a good marketing idea and this will make more people aware of the manufacturer.


This article is brought to you by Jestine Yong
Please give a support by clicking on the social buttons below. Your feedback on the post is welcome. Please leave it in the comments.
P.S- Do you know of any your friends who would benefit from this content that you are reading now? If so, forward this website to your friends or you can invite your friends to subscribe to my newsletter for free in this Link.
Likes
(

241

)
Dislikes
(

2

)