Partial Failure Of Sony AM/FM IC CXA1238S Found In Module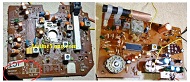 This board was brought to me by one of my technician friends stating that the FM was not picking up any stations though the AM was working. He tried replacing the crystal, and then replaced all the electrolytic caps, and also retouched the dry solder. He bought a new IC and put it in with the same result.

He brought only this portion as I declined to add one more set to my already packed service room. On checking by applying power (9V DC) directly to the filter cap, I confirmed that though the hissing noise was there, it was not picking up any stations.
I downloaded the datasheet and took print out of a Radio circuit using the IC CXA1238S and studied the circuit thoroughly for any faulty component. I replaced the crystal once again and also the IC (removing it from a Sony salvaged board that I had) with the same result. Then my suspicion was on the Oscillator Coil. I looked for an Oscillator coil from my old collection and removed one and opened it (let us call this coil as A). Then opened the coil of this board (call this B) and studied the connections. It was similar.
So, fit the coil A in place of coil B in its own case. Fit the oscillator coil and tried. This time it started picking up stations! (I also replaced one electrolytic cap in the AM area also, which my friend had overlooked.) So, refit the board and allowed it to run for a few minutes before keeping it aside for pick up by my friend. I took videos and pictures and sent it to him through Whatsapp. Satisfaction got added to its collection as usual. The reason for not working even after replacing the IC by my friend perhaps indicates duplicate ICs! Here are a few more pictures:




This article was prepared for you by Parasuraman Subramanian from India. He is 70 years old and has more than 30 years' experience in handling antique equipment like Valve Radio, Amps, Reel Tape Recorders and currently studying latest tech-classes conducted by Kerala State Electronics Technicians' Association. He has done graduation in BBA degree, private diploma in Radio Engineering and retired as MD of a USA company. Presently working as Consultant to Hospital and other institutions.
Please give a support by clicking on the social buttons below. Your feedback on the post is welcome. Please leave it in the comments.
P.S-If you enjoyed reading this, click here to subscribe to my blog (free subscription). That way, you'll never miss a post. You can also forward this website link to your friends and colleagues-thanks!
You may check on his previous repair article below:
https://jestineyong.com/restored-a-liquid-seepage-spoiled-ahuja-power-amp-model-dpa770/
Likes
(

69

)
Dislikes
(

1

)