PC Vibration Solved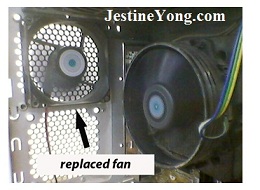 Early in the morning a co-worker came to me because her PC was having too much
vibration and she could not work with this situation. Her PC was an ASUS P5LD2-VM/S.

I thought of the fan first, when I got to her PC the lateral cover of the chassis was taken off, and when I had a look inside with my naked eye look at the photos and see what was found.

One of the seven blades of the rear fan was absent so it had to be replaced or removed definitively if no other one was available.
In this case it could be replaced; it worked as a heat extractor in the rear of the chassis.

When the PC was switched on, what a relief! No more vibration. Mission accomplished.

Note: it was really a simple job, but let's has into consideration that this enormousvibration could have damaged the Hard Disk Drive, and then it would have been worst if all the information was lost. What a misfortune for her.

This article was prepared for you by Humberto Rodriguez, one of our 'Master Authors' from Cuba.
Please give a support by clicking  on the social buttons below. Your feedback on the post is welcome. Please leave it in the comments.
P.S- Do you know of any your friends who would benefit from this content that you are reading now? If so, forward this website to your friends or you can invite your friends to subscribe to my newsletter for free in this Link.
Likes

(23)
Dislikes

(0)
Likes
(

1

)
Dislikes
(

0

)