Peugeot 206 Incorrect Gauges Repair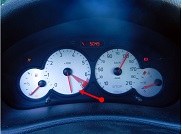 Incorrect set gauges is a common problem on this type of car, the root of the problem could be some sort of voltage drop in the instrument panel during the car is driven or it is switched on with a poor battery but without engine running.
Here is a very short introduction how to repair this problem in 15min.
Tools you need:
– screwdrivers
– good cup of coffee
So, here is how it looks like on the dashboard when the rpm and the speed gauges are out of calibration:

When I switched on the dash I saw the rpm meter was positioned around 7000rpm and the speed gauge was calibrated on 130km/h. Wow! This is a rocket not a car!
Now I fired up the engine to check is the rpm gauge moving and also tried to drive the car several meters to see what is happening to the speed meter gauge. Everything was fine, the rpm and speed meters are reacting to the real rpm and speed of the engine/car.
Here is a picture when the engine was idling, car still not driven jet…

What we have to do in this situation to calibrate the gauges, no matter what gauges are out of calibration, fuel, temperature, rpm…
Disassemble the dashboard.
Turn the key to ON position.
Wait a moment until the gauges stops.
Turn the misaligned pointer gently counterclockwise until you reached the needed position. Let's say, if the engine is not running and the rpm pointer is in a position like on the picture, Turn the pointer to zero, because the not running engine has zero rpm.
Remember!
Don't do this repair if the gauge is not reacting to some interaction of you. If the car can be connected to a diagnostic tool, then you can have an option to recalibrating the gauges, and you can use your diagnostic tool to try to interact with the gauges, to see if it reacts.
Not all dashboards can be recalibrated by diagnostic tool. Never turn the pointer clockwise! You can break the pointer or harm the stepper motor which is moving the pointer. That's it. Job done.
I hope you enjoy this tutorial and will save lot of repair time.

This article was prepared for you by Christian Robert Adzic from Novi Knezevac-Serbia.
Please give a support by clicking  on the social buttons below. Your feedback on the post is welcome. Please leave it in the comments.
P.S-  If you enjoyed reading this, click here to subscribe to my blog (free subscription). That way, you'll never miss a post. You can also forward this website link to your friends and colleagues-thanks!
Note: You can check his previous post in the below link:
https://jestineyong.com/reading-the-sirius-32n-ecu-with-galletto-v54-with-video/
Likes
(

51

)
Dislikes
(

0

)