Philips CD Sound Machine Repaired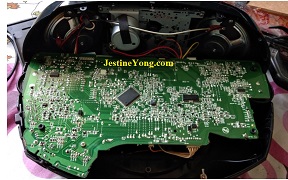 Customer sent me device Model – AZ329 stating problem Not power symptom.

On initial visual inspection everything looks OK from outside.
Checked power cord for continuity test seems Ok. So for further diagnosis I disassembled the device.

opened power unit for inspection.

Found Burn Mark on plastic but didn't find any burn mark On the PCB or seen any damaged components.



hence tested every components. every reading in proper range…..not tested that 6 pin IC. Here I decided to check the Voltage of power supply output.
On testing I found output is showing 7.5v DC…. checked Back sticker of the unit for confirming it is showing 9v DC.

I am getting Low voltage here. For reconfirm again I checked voltages on the load.

Now on Load Voltage is dropped to 0.82v. Now I suspect the Power supply itself bad because it does not take Load.
For confirmation I used my Battery eliminator as an external power source to this device. I set the eliminator on 9v connected to input of cd player & turned on the device it started working. Checked every functions of the CD Player everything works fine.
Now it is confirmed Power supply is not working as I am having doubt on that 6 pin IC checked code on the 6 pin SMD IC is C2161DX2 it works as Primary Sensing SMPS Controller. On net I found the circuit diagram.

I Know if IC itself bad it is not economical to find & purchase the IC & repair the unit, instead of wasting time further I decided to eliminate this power supply & put new power supply.
On sticker it is showing 10W power rating indicates nearby 1.1Amp for working. so I arranged 9v 2Amp DC adaptor which can fit inside the CD Player. Opened the New power adaptor & removed the Circuit because it is not possible to put whole adaptor inside.


After fitting new adaptor inside the unit I powered the Unit & checked everything working fine.


This article was prepared for you by Yogesh Panchal who works as a Computer Hardware Engineer in Mumbai India.
P.S- Do you know of any your friends who would benefit from this content that you are reading now? If so, forward this website to your friends or you can invite your friends to subscribe to my newsletter for free in this Link.
Note: You can check his previous repair articles on Bluetooth Speakers Turn Off Within 10 Minutes
Likes
(

58

)
Dislikes
(

0

)