Uniden Phone Power Supply Repaired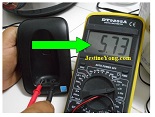 This story is about a wireless UNIDEN (VietNam made) phone and the complaint was the phone never switched on, and therefore, the owner could not use it.First thing done was to disassemble the Power Supply Unit (PSU) which had the following features:
Output: AC 8 volts.
300 mA.
The photo below shows the base of the phone.

The PSU was disassembled. Once it was in my hands the continuity of the primary winding of the transformer was checked with a Digital Multimeter. There was no continuity, now I had a clue to continue my job.
I had an idea which has saved to me in many occasions: to break the isolation ribbon (blue colour in this case) of the primary winding of the transformer. Why? Because in a great deal of cases the manufacturers hide a fuse in this place, look at the photo below.

As you can see in the photo above the fuse was hidden under the isolation of the primary winding. The fuse was tested with the Digital Multimeter and it was open. Therefore it was substituted for a similar one. The PSU was connected into the AC outlet of the wall and there was AC out in the secondary winding. The PSU was assembled again and connected to the phone.
The DC-out of the base was tested and it was fine, look at the photo below.

The wireless phone could be connected to its base now.

 The owner was very happy because he could use his wireless phone again. Mission accomplished.

This article was prepared for you by Humberto Rodriguez, one of our 'Master Authors' from Cuba.
Please give a support by clicking  on the social buttons below. Your feedback on the post is welcome. Please leave it in the comments.
P.S- Do you know of any your friends who would benefit from this content that you are reading now? If so, forward this website to your friends or you can invite your friends to subscribe to my newsletter for free in this Link.
Likes
(

28

)
Dislikes
(

0

)