PM On The Dell Inspiron 17R 5720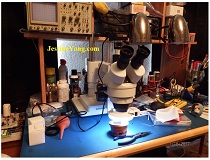 While learning how to use my new AmScope microscope, its camera and related software, I noticed that the fan in my Dell 17R Inspiron laptop was running too much.
It is 4 years old and time for some (PM) preventive maintenance. It also needs a new headphone jack. I bought a new jack several months ago for it. It's been a good laptop so far.


Here are a few photos of the laptop and the 1TB hard drive. You can see my Staedtler eraser pen that I use to clean the ribbon cables with in the above photo. After I clean them with the eraser, I clean them with alcohol.
The laptop wasn't very dirty. I try to keep the environment as clean as I can. I also use a lap base under the laptop that has 2 fans blowing onto the bottom of the laptop to help keep it cool.



The thermal grease wasn't too hard but it was definitely in need of removal and replaced with some fresh grease. I used my Arctic Silver 5 thermal grease.



Now my new thermal grease is on and the heatsink ready to be remounted.
You can see in the photo above that I was sold the wrong headphone jack port. At least now I have had a good look at it and can try to find the correct one. The coin cell battery still had 3.267V, so I left it in. I may replace it with a new battery after I find the correct headphone jack, and replace it.
Putting the new thermal grease on the processor and heatsink was the most important thing. I'll get back to learning how to use my new microscope camera/software and get going on the first Accutron article. It will be a busy week since my granddaughter will be born any day now. I can't wait to see her beautiful face! I was hoping to include the headphone jack repair in this article. But that's the way things work out sometimes. At least I hope the article inspires people to take preventive maintenance seriously. A little preventive maintenance now can save us a lot of money later!
Most people seem to think that PM only applies to our cars. Hopefully taking good care of my laptop will help it work great for many more years.

Above is a photo of my new microscope. It isn't the best microscope available, but is all I can afford right now. It is an AmScope SM-4TZZ-144S-3M. It has a 3MP camera and a 144 LED ring light. Right now I have it setup with the 2X Barlow lens so I can get the closest photo I can get of the Accutron 214 index wheel and tiny jewels. With the 0.5X Barlow lens I can get a pretty close look and still have about 6.5 inches of working distance. It seems to be adequate for my needs. I had to move my oscilloscope up a level to make room for it.

Here is a close-up photo of the index wheel and jewels. You can see how dirty they are. This is the closest my microscope can get. I'll get some better photos of them after I take the movement apart. It has a lot of glare from the light shining on the metal movement.
I hope you guys enjoyed the article and the sneak peek into the next one. Thanks and Happy New Year!

Robert Calk Jr. is an electronics hobbyist from Texas, USA. He also has interests in leather working and horology.
Please give a support by clicking  on the social buttons below. Your feedback on the post is welcome. Please leave it in the comments.
P.S- Do you know of any your friends who would benefit from this content that you are reading now? If so, forward this website to your friends or you can invite your friends to subscribe to my newsletter for free in this Link.
Please check out his previous repair article below:
https://jestineyong.com/bulova-accutron-watchmaster-600/
Likes
(

113

)
Dislikes
(

1

)