Power Blinks In LG LED TV Repaired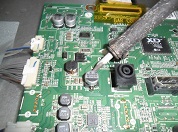 This 24″ LG LED TV came in with the complaint of power blinks. Power blinks problem can be caused by bad power supply or the mainboard itself. If the mainboard is receiving good DC supply voltages then can ignore the power supply.
In this case, the external power supply was tested good (19.06 VDC)  but sometimes the voltage can be lowered due to the power supply itself have problem (can't sustain the load draw) or the mainboard is drawing too much current.

In the below example, you can see that the moment the power supply was connected, the supply DC voltage dropped from 19.06 to 15.18 and finally 9.32 volt. This is very abnormal.
By right it should drop slightly and not too much. I did not suspect the power supply fault because I have a spare power supply to confirm that it was working fine.

Since the problem now is in the mainboard, the first thing I do was to check the components in the voltage regulator circuit. I did not find any bad components except one which was the SMD electrolytic capacitor that is rated 68uf 35 volt.
It was leaked and have low resistance. This  is the main cause that had pulled the power supply DC voltage down!

I took a normal electrolytic capacitor (100uf 63 Volt) just to test it out to see if the TV will works again.


Guess what? The TV came back to life again.

Conclusion- This kind of problem can happen in any electronic equipment. One good example is the laptop. By referring to my article, at least you will have some ideas on how to troubleshoot and repair it. Ok will see you again-thanks.

This article was prepared for you by Suranga Bandara who owns an Electronics repair shop in Anuradapura, Sri Lanka.

Click HERE to check out Humphreys ebook in LCD/LED TV Repair
Please give a support by clicking on the social buttons below. Your feedback on the post is welcome. Please leave it in the comments. If you have electronic repair articles to share with us, please contact us HERE.
P.S-  If you enjoyed reading the above article, click here to subscribe to my blog (free subscription). That way, you'll never miss a post. You can also forward this website link to your friends and colleagues-thanks!
Note: You may check out his previous post in the below links:
https://jestineyong.com/shorted-led-driver-mosfet-in-hisense-led-tv-repaired/
Likes
(

97

)
Dislikes
(

0

)